Galaxy Note 4 finalized design may not appeal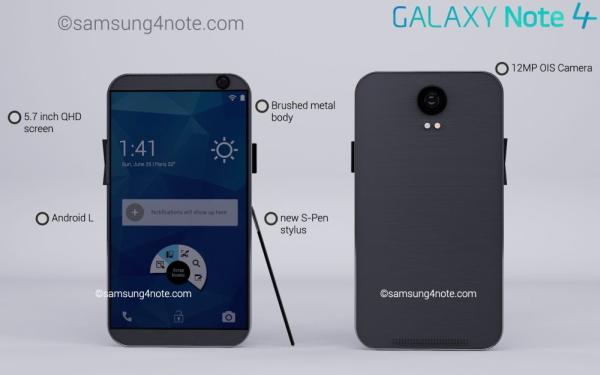 The Samsung Galaxy Note series of handsets has increased in popularity since the original model was released, and while the latest Galaxy Note 3 is currently being treated to some features found on the S5 thoughts have been concentrating on what's coming this year. Today we have a finalized Galaxy Note 4 design that may not appeal to some mobile users.
It is widely believed that the Samsung Galaxy Note 4 will be officially unveiled at the IFA Trade Fair in September, but before then we have a concept design idea of the device by Rishi Ramesh who gave us a sneak preview of this design last month.
We have a 5.7-inch touchscreen display at a QHD resolution that is housed inside a metal body that is also housing a new Samsung S Pen stylus. The device could come with the quad core Qualcomm Snapdragon 805 processor running the latest Android L operating system.
This design idea of the Samsung Galaxy Note 4 won't be to everyone's tastes though but we don't have much longer to wait to see what the device is like for real.
Do you like this design and are you waiting for the release of the Galaxy Note 4?
Source: samsung4note.com via Concept Phones.