Galaxy S5 running Tizen being tested by Samsung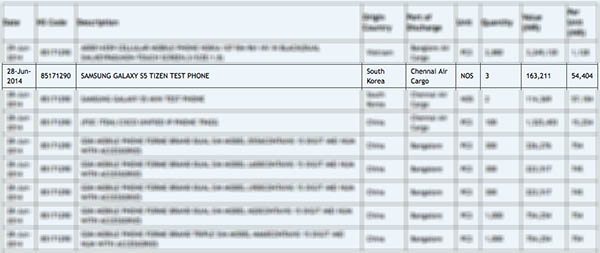 The first smartphone from Samsung running Tizen, the Samsung Z, was made official at the beginning of the month. However, the South Korean manufacturer's Tizen efforts might not stop right there, as we're seeing a certain Galaxy S5 variant, running this mobile OS, listed on the internet.
Indian import-export tracking website, Zauba (sourced below) is reporting that not one, but three units have been received from South Korea, with a unit price listed at 54,404 rupees (about 530GBP). The name, as seen in the tablet above, is "SAMSUNG GALAXY S5 TIZEN TEST PHONE". This means that Samsung is internally testing a unit of its flagship running its own operating system.
Whether this device will remain in testing phases, or it will actually see the light of day officially, is yet unknown. There are no other details for the moment. If, however, this Tizen-powered GS5 ever makes it to the market, it will be superior in terms of specs to Samsung's Z phone, in almost all categories:Â bigger screen, faster processor, better camera, larger battery.