Sony Xperia Z3 purported software image leaks specs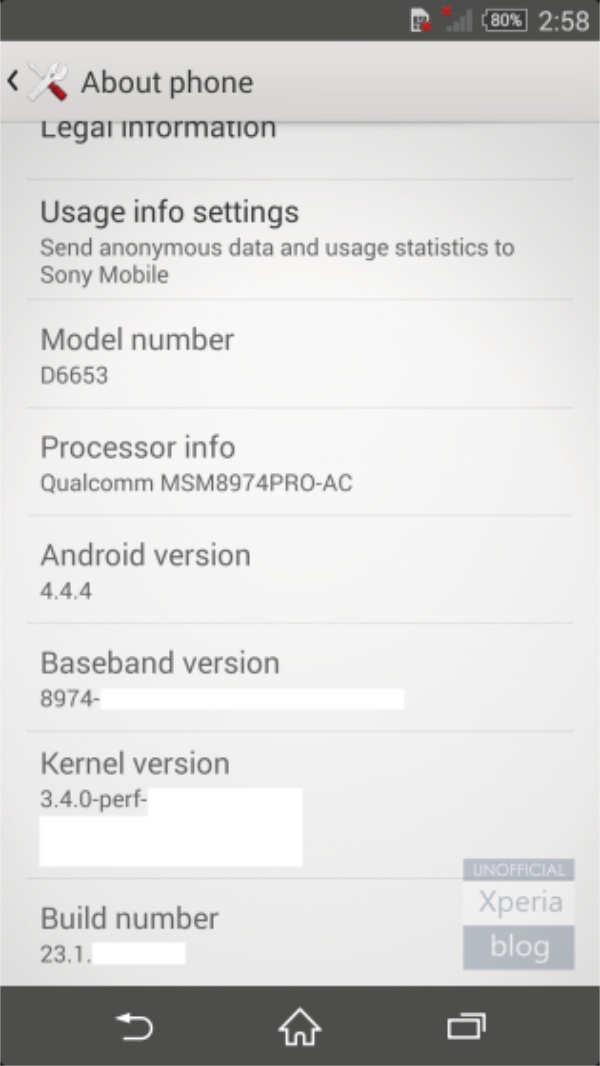 The Sony Xperia Z3 release is anticipated later this year, despite the fact that the Xperia Z2 only launched earlier this year. This will be a new flagship device and we've already seen several leaks about it in recent weeks. Now a Sony Xperia Z3 purported software image shows some more leaked specs.
Our most recent article on the Xperia Z3 regarded some leaked images, and prior to this we had news that the certification process for the Z3 had already begun, along with various model numbers for the phone. A few days ago we also reported on a screenshot leak for the Xperia Z3 Compact, and now we have news on a similar leak regarding the Z3 itself.
A leaked image claims to show the About screen on the Xperia Z3, and lists the model number as D6653, a number that we'd already seen mentioned. Although earlier rumors suggested the phone would have a Snapdragon 805 processor, this was discounted by a more recent leak when the tipster said it would have the Snapdragon 801. The screenshot shows the processor to be the Qualcomm MSM8974PRO-AC, which is indeed the Snapdragon 801, as already used on the Xperia Z2.
Further snippets from the About screen show the firmware to be Android 4.4.4 KitKat, (likely to be updated to Android L before release), a 3.4 kernel and a 23.1.X.XXX build number. There's 1080p resolution for the screen capture, which suggests that the Xperia Z3 is not likely to feature a QHD display (as used on the LG G3) and will be sticking with a Full HD display.
We should remember that we cannot verify the authenticity of this latest leak, but if accurate it may disappoint some people already looking forward to the Xperia Z3. With the processor and Full HD display resolution being the same we can only imagine that perhaps the camera will see some improvement, and that there will be a new design.
Are you already looking ahead to the Sony Xperia Z3? If so, and if these leaked specs are accurate, what else do you think the next flagship could offer to make it more desirable? Send your comments to let us know.
Source: Xperia Blog