Color Red Alert Israel app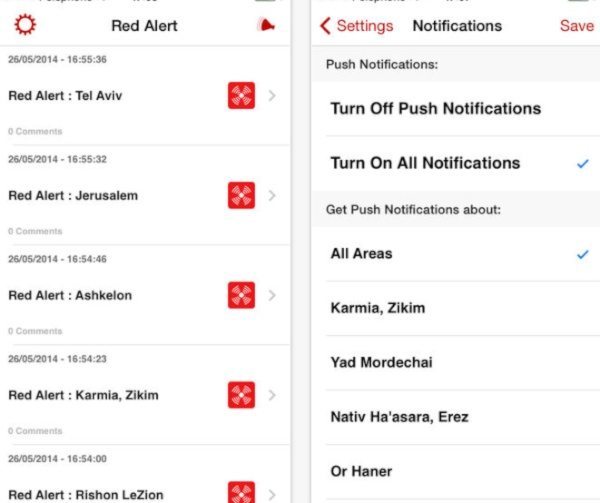 There are some great entertainment apps available but we shouldn't forget there are also some really useful apps. The ongoing situation in Israel is a real concern to many who live in the region so today we have details of the color Red Alert Israel app, which is available for Android devices and also iPhone and iPad.
The Iron Dome system is in place safeguarding lives, as it shoots down Hamas rockets, but if there are multiple incoming rockets some can still get through. That's where the Red Alert Israel app comes in as it can give real time alerts with a warning of between 15 seconds and one minute.
The Red Alert app is from Kobi Snir and users across the globe are using it to get an idea of attack frequency after it was mentioned on mainstream news. Viewers in the UK and US have been able to see for themselves the alerts given for rockets, missiles and mortars for the State of Israel.
If you have an iOS device you'll find the app on the App Store where it's simply named Red Alert: Israel. It's a free app for iPhone and iPad running iOS 4.3 or later and you can find it at iTunes here. It's more difficult to find if you have an Android device though. If you look on the Google play Store under "Red Alert Israel" it doesn't show, but is instead under the page name "com.kobisnir.redcolor and named "צבע אדום." The Android version of the app is free at Google Play here, and it's compatible with devices running Android 4.0 or later.
This is another example of how mobile technology can be used to help people. Do you think you will make use of the Red Alert Israel app?
Our thanks goes to Product Reviews.