iPhone 6 September 19 launch date reiterated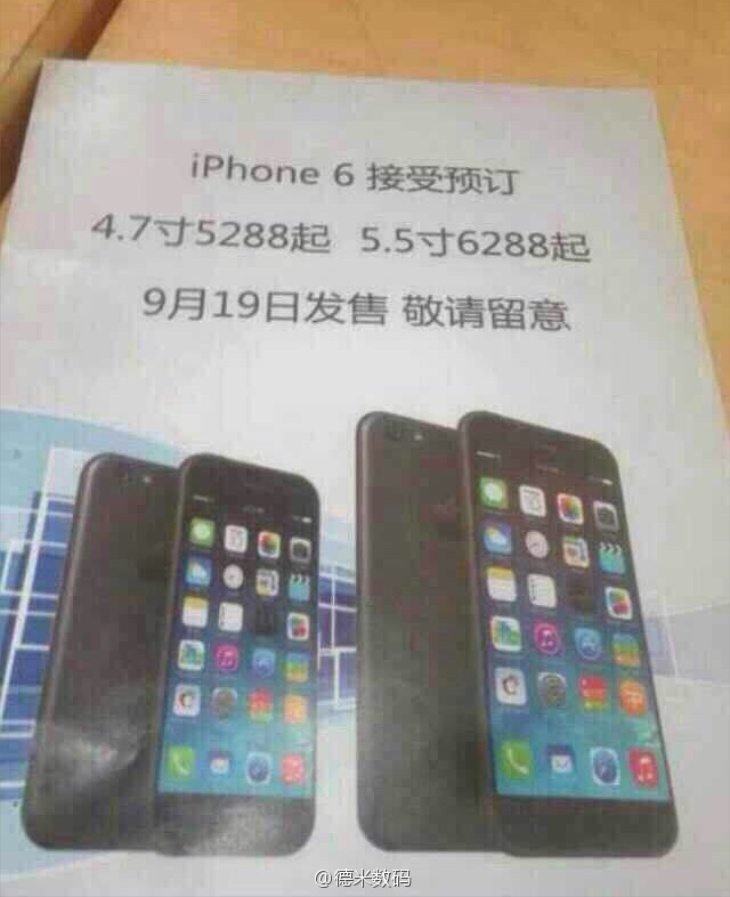 One of the questions we are most asked at the moment regards the iPhone 6 release. Some time ago we informed readers about a tipped specific September date for its arrival. Now an iPhone 6 September 19th launch date has been reiterated from a promotional flyer out of China.
Everyone expects the release of the iPhone 6 in two different sized models in fall, and last month a report gave an unverified date of September 19th for the launch. This tallied with an earlier rumour in May where Deutsche Telekom gave some customers the same date for a release. Now that date has been backed up again with it being shown on advertising material.
The flyer that was posted on Weibo shows the new iPhone model with a 4.7-inch display and also another model with a 5.5-inch model, as is widely expected. Pricing is also shown on the flyer of Chinese RMB 5,288, around $850 or £499, for the smaller variant and RMB 6,288, around $1012 or £593, for the larger phablet version. Remember though that although we've given equivalent pricing this will vary by region.
As with all of these kinds of leaks we have to point out that the above information cannot be confirmed, but as the same date has now been mentioned several times there's growing weight. What remains a little ambiguous at this stage is whether this is an official launch date or an actual release date, but no doubt as we get close to September we'll get more of an idea on this.
You can see much more on the next iPhone in our many articles about it here, including recent leaks on dimensions and the Touch ID sensor. Are you already eagerly waiting for the Apple iPhone 6?
Source: GSMInsider