Nokia Lumia 530 specs confirmed with pricing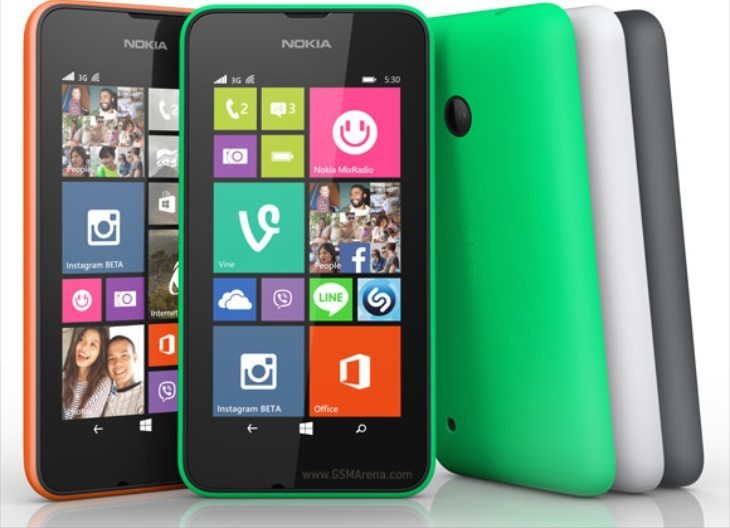 Well what do you know! Just yesterday we reported on leaked specs for the Nokia Lumia 530 and hoped the official unveiling was getting closer, and today the phone has just been announced. Nokia Lumia 530 specs have now been confirmed, along with pricing for this extremely affordable handset.
The good news is that the majority of leaked specs have proved accurate. However, the bad news is that this successor to the popular 520 is only a minor upgrade, and in fact in some aspects has taken a backward step.
As we expected the 530 has a 1.2GHz Snapdragon 200 quad-core processor, Adreno 302 graphics, and a 4-inch display with resolution of 854 x 480 with 16:9 aspect ratio. However, the phone does NOT have ClearBlack display technology as was rumored, and instead has just a standard LCD display.
There's 512MB of RAM but one thing that may alarm some potential buyers is that internal storage is only 4GB as opposed to 8GB on the Lumia 520, although this is expandable via microSD to 128GB. Specs also include a 5-megapixel fixed rear camera but instead of autofocus this is fixed focus, and video capture is downgraded from 720p to 854 x 480.
The Lumia 530 has a 1430 mAh battery and one incentive is that it runs Windows Phone 8.1 and features world-wide navigation with Nokia Drive+. Dimensions are 119.7mm x 62.3mm x 11.7mm as was previously leaked, and surprisingly this is notably thicker than the Lumia 520 at 9.9mm thick.
The Nokia Lumia 530 release will take place in August and the price is €85 (that's around $115, £67, or Rs. 6,900) before subsidies and taxes. It will be available in both single SIM and dual SIM 3G versions in color options of green, dark grey, orange, or white.
The specs might not have been upgraded as much as we had hoped but bearing in mind the price tag, is the Nokia Lumia 530 a phone you would consider buying?