BlackBerry Passport in white shown before release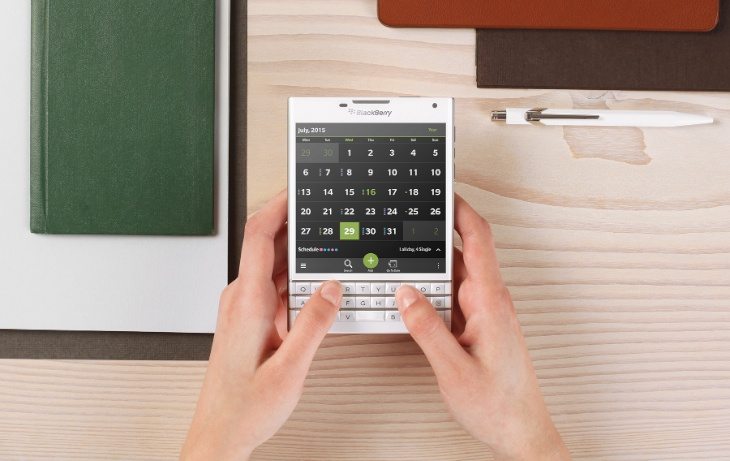 We already know that the BlackBerry Passport will arrive later this year as it has already been officially pictured in a black color. Now the BlackBerry Passport in white has been shown before the release, offering an alternative for the business user that this phone is targeted at.
The Passport was officially introduced last month when BlackBerry CEO John Chen unveiled it alongside the BlackBerry Classic. Both handsets have QWERTY keyboards and the Passport looks rather oddly wide and has a square 4.5-inch display with resolution of 1440 x 1440.
At the end of last month we also showed a further image of the phone along with a video glimpse of the browser. The same leaker also gave unconfirmed specs of 3GB of RAM, 32GB of internal storage (expandable via microSD), and a sizeable 3450 mAh battery, but we should remember that these are not official.
Now a new photo has emerged from BlackBerry's Donny Halliwell of a white BlackBerry Passport, an option that might appeal to some buyers. The designers of the phone, Brian Paschke and Joseph Hofer, say that this specific shade of white is custom for the Passport to match the frame of stainless steel and create "overall color harmony."
The rear cover is said to have a smooth porcelain-like coating that also provides grip. The idea of the Passport being aimed at business and productivity users is also reinforced by the words, "inspired by a traveler's passport; a familiar and universal symbol of mobility."
It's no secret that BlackBerry has enterprise customers very much in its sights, and it will be interesting to see how the Passport fares in this market. What do you think about the unusual styling for the BlackBerry Passport and this white color version? Send your comments to let us know.
Source: Inside BlackBerry
Via: Berry Review