Samsung Galaxy S4 sets bed on fire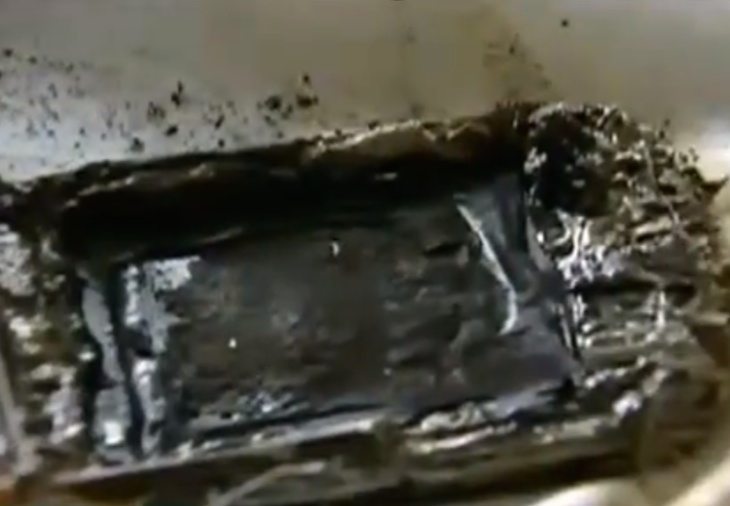 Considering the millions of smartphones produced these days it should perhaps be no surprise that on occasion something goes wrong. We have a story today about a Samsung Galaxy S4 that set a bed on fire. This may alarm some readers, especially those who have the same phone, but we should remember that these kinds of occurrences are rare.
The incident happened in Texas where a 13 year-old girl woke in her sleep because of a smell of burning. Ariel Tolfree went back to sleep but when the acrid smell got worse she woke again, and thank goodness. Her Samsung Galaxy S4 had caught fire under her pillow, and although Ariel was thankfully unscathed the bedding was damaged and her phone was barely recognizable.
The family feels a replacement battery was to blame, but it has not been clarified whether it was an authorized replacement or not. Samsung's response was to ask for the return of the burned unit and has pledged to give Ariel a new phone (hopefully the latest model). The company also made good on the singed pillow, mattress and bedding.
It should be noted that Samsung does advise owners not to keep their phones under bedding because of the possibility of a fire. Samsung warns —
Covering the device with bedding, your body, thick clothing or any other materials that significantly affect air flow may affect the performance of the phone and poses a possible risk of fire or explosion, which could lead to serious bodily injuries or damage to property."
Nevertheless this isn't the first time something like this has happened. Back in December we told how another Galaxy S4 owner's handset caught fire when charging, and the response from Samsung on that occasion was not so favorable.
Below this story we've embedded a YouTube video of the Fox News story about this latest incident so you can see more about what happened. Are you alarmed to hear of this latest Galaxy S4 fire incident?
Via: Phone Arena