Kindle Fire HDX with Snapdragon 805 found on AnTuTu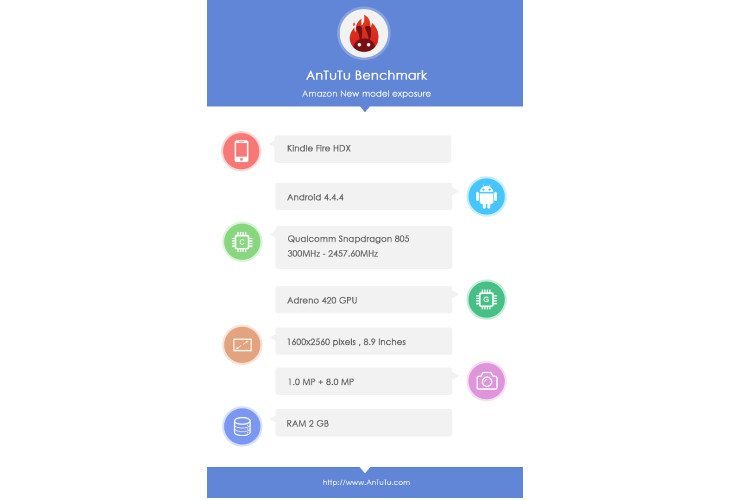 Amazon has been in the news lately for the Fire phone and Fire TV, but what about their tablets? It appears that a new version of the Kindle Fire HDX has just gotten benchmarked, and it will be faster than the previous model.
The Amazon Kindle Fire HDX has appeared on AnTuTu with benchmarks in tow. The name and the innards essentially stay the same, but the slate is getting a new processor that will give it a boost over its competitors. It will also be one of the first tablets in the U.S. to take advantage of the new chip.
The 8.9-inch model of the Fire HDX is getting a Snapdragon 805 and Adreno 420 GPU which will certainly give the tablet a boost in the performance department. The rest of the specs are the same as the previous model which means you'll get dual 8MP/1MP cameras, 2GB of RAM and a blistering resolution of 2560×1600 on that 8.9-inch display. It's listed as running Android KitKat 4.4, but we all know it'll be a forked version of KitKat with Amazon's OS on top.
It's common to see yearly refreshes with smartphones and tabs, so it's no surprise to see Amazon giving the HDX a bit of a revamp. Both HDX models appeared towards the end of last year, so we expect to hear more about the 8.9-inch HDX and the rest of the Kindle Fire line in the weeks ahead.
Will you upgrade your Kindle this year?
via – Gforgames