Nokia Lumia 730 Superman photos hit the net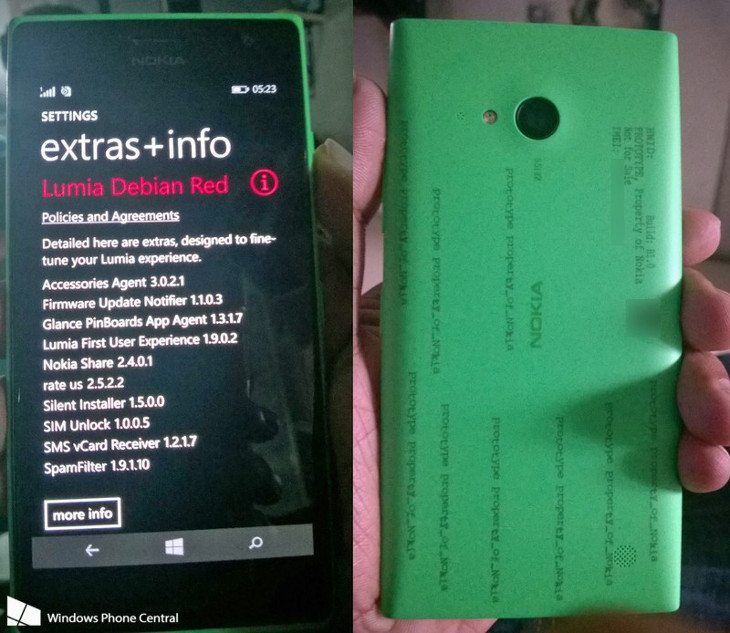 Everyone knows Nokia has a few Windows 8.1 handsets in the works, and one of those is the selfie snapping Superman phone. The device is believed to be the Nokia Lumia 730, and a new photo of that smartphone has just hit the web.
We've talked about the Nokia Superman in the past, and we got a look at a device rumored to be the Lumia 830 just last week. The new photo was obtained by the folks at WPcentral, and it shows a green Nokia Lumia 730 Superman running something called "Lumia Debian Red."
The site wasn't able to get any additional details, but the smartphone is believed to sport a 4.7-inch display and have a 5MP front-facing camera for taking super selfies. It's rumored to be a mid-range handset as well, which means you could be looking at a 720p display, 1GB of RAM and the standard Snapdragon 400. As for the rear camera, we're guessing 8MP, but Nokia could surprise us.
The Debian Red moniker is likely a codename for a firmware update running on the device. Previous versions were similarly named, and they tend to go alphabetically with the "Cherry Blossom Pink" Lumia Cyan and now Debian Red. Nothing else is known about the update, and we still don't know when the new Superman phone will arrive, but we expect to learn more soon.
Which new Lumia Windows handset will you choose?