The LG G Vista is headed to AT&T for $49 on August 12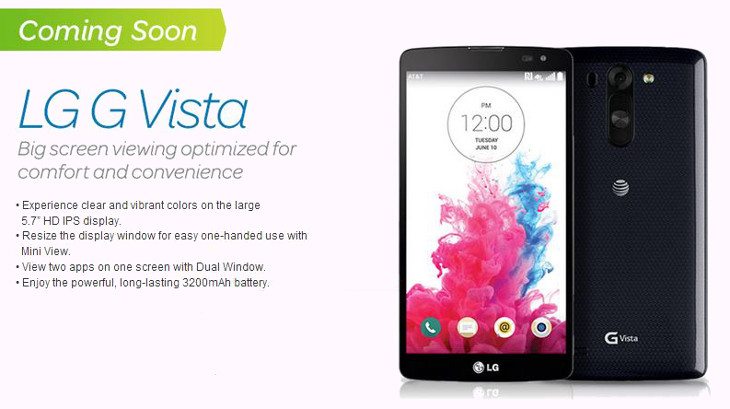 Last month the LG G Vista landed on Verizon, and now the large handset is headed to AT&T. It's big, and you'll be able to pick it up for only $49 on August 22 at old Ma Bell.
The LG G Vista arrived at Verizon on July 31st, and it didn't take long for the phablet to find its way onto another carrier. It is the same device found on Big Red, which means you'll get a 5.7-inch 720p display, Snapdragon 400, 8GB of storage, 1GB of RAM and a 3200mAh battery to push the pixels. It also features the laser auto focus found on the LG G3 on its 8MP rear camera, and you can snap all the selfies you want with the 1.3MP front-facing shooter.
The device may be the same, but the pricing isn't as you'll be able to pick up the LG G Vista in a variety of ways. If you want it on a new 2-year deal, it will set you back $49 or you can get it unlocked for $354.99. Want to break the LG G Vista down monthly? If so, it will cost $14.80/month on Next 18 or $17.75/month on AT&T's Next 12 plan.
The LG G Vista will arrive online and in AT&T stores on August 22, and will be available in Indigo Black. The phablet may be a bit underpowered, but you're getting a large display, KitKat and all of LG's software features like Mini View, Dual Window, KnockOn, and KnockCode.
Do you plan on picking up the LG G Vista next month?
Via – AT&T