New Nokia Lumia 730 color and dual SIM addition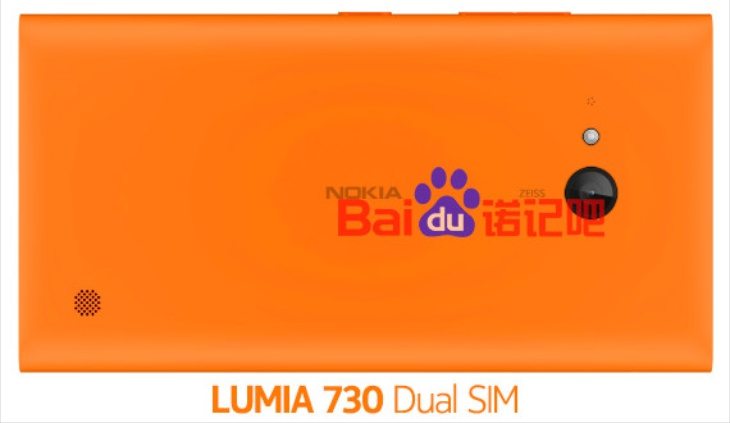 There have been murmurings about a Nokia Lumia 730 smartphone for some time, and just a couple of days ago we showed some leaked images of the device in green. Its codename is the Nokia Superman and now a further image has leaked that shows a new Nokia Lumia 730 color in a dual SIM edition.
The Lumia 730 will be a phone for selfie lovers as rumors suggest a 5-megapixel front-facing camera. Other unofficial specs include a 1.2GHz Snapdragon 400 processor, 4.7-inch display with 720p resolution, 1GB of RAM, 8GB of internal storage, and a 2000 mAh battery. The previous image we shared showed the handset in a green color running Lumia Debian Red, and it's thought that this could be the codename of an upcoming firmware update.
This latest image that has surfaced is purported to be of the Lumia 730 in a bright orange color, and it now appears that this phone will also be available in a dual SIM model. The phone has a unibody polycarbonate build and an 8-megapixel rear camera with Zeiss optics is also touted. It's now claimed that the phone will arrive running Windows Phone 8.1 Update 1 out of the box.
We've previously heard that the Lumia 730 will be heading to Verizon and AT&T in the US by the end of August, with further markets to follow. As dual SIM smartphones are particular popular in countries such as India, there are likely to be plenty of potential buyers waiting to see if the phone will release in their region.
Hopefully it won't be too much longer until we see the official arrival of the Lumia 730, when of course we'll bring you details of the confirmed specs, release date and availability as well as that all-important price. Are you hoping that the Nokia Lumia 730 comes to your region?