Nokia Lumia 530 India pre-orders sold out before release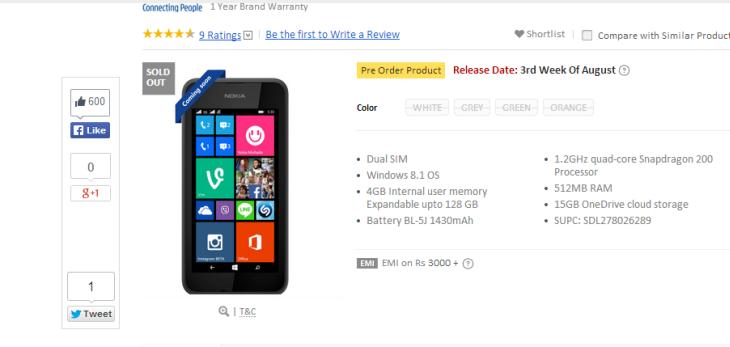 Despite losing its way for a while at the high end of the smartphone market Nokia has always been popular for its more affordable hardware that have always sold well. This trend has continued with the company's range of Lumia devices and now we have news that the Nokia Lumia 530 pre-orders in India have sold out before release.
The Nokia Lumia 530 has already gone on sale in some regions but for consumers in India the wait for the device continued, but now online retailer Snapdeal has put the smartphone up for pre-order without any advance amount needed.
Trouble is though the listing for the smartphone is now showing sold out with a release promised during the third week in August. To quickly recap the Nokia Lumia 530 features a 4-inch display at a resolution of 854 x 480.
This is powered by the dual core Qualcomm Snapdragon 200 processor clocked at 1.2GHz and paired with 512MB of RAM running the Windows 8.1 operating system. There is 4GB of built in storage that is expandable by up to 128GB via microSD card, dual SIM support, 5MP rear camera, and a 1,430 mAh battery keeping everything switched on.
Did you manage to pre-order the Nokia Lumia 530?