Claimed Galaxy Note 4 retail packaging pictured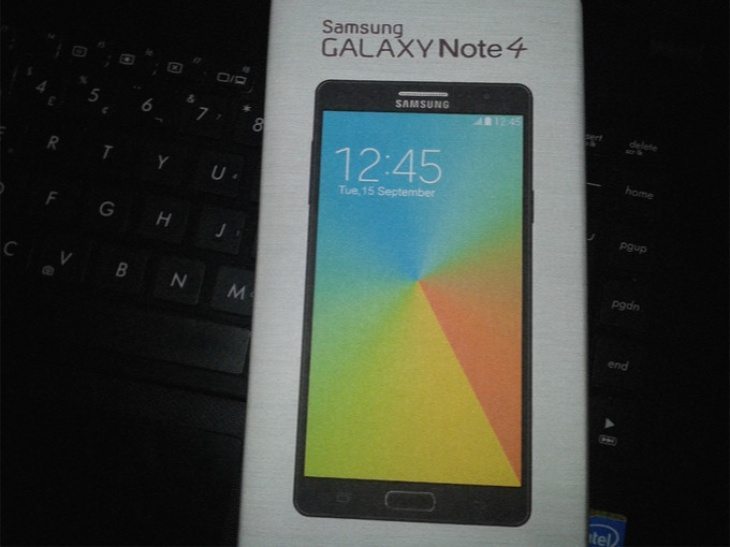 The smartphone world is eagerly anticipating the release of the Samsung Galaxy Note 4, which is expected to be officially revealed at a pre-IFA Berlin event taking place on September 3. We've already seen plentiful amounts of leaks and rumors about this device, and now we have the claimed Galaxy Note 4 retail packaging pictured.
This leaked image purporting to be the Galaxy Note 4 box was sent to PhoneArena from an anonymous source, so we have no way of being able to verify whether it's genuine or not. It's quite different from the current packaging that Samsung uses for the Note 3 and also the Galaxy S5, but that's not altogether suspicious as it's always possible that something fresh is on the way.
The box also appears to have a metallic-look pattern that could indicate a more premium build for the Galaxy Note 4, but we shouldn't really read too much into that. Another teaser is the fact that the image of the Note 4 shown on the box itself has a September 15 date on the wallpaper.
Previous renders of Samsung devices have sometimes shown the date of the official reveal, so it's intriguing that rather than September 3rd we have the 15th as a date. Perhaps this is a hint of the actual release date, or of course it could be a complete red herring. It does tie in with previous news of a vacation blackout for Samsung employees though.
For now we think this image needs a pretty large salt pot, but there's always a chance that it could be the real deal. We'd like to hear your opinions on this retail packaging leak. Do you think this is genuinely for the Samsung Galaxy Note 4 or not? Drop us your comments in the box below.
Source: PhoneArena