Xiaomi Mi3 vs Nexus 5 specs breakdown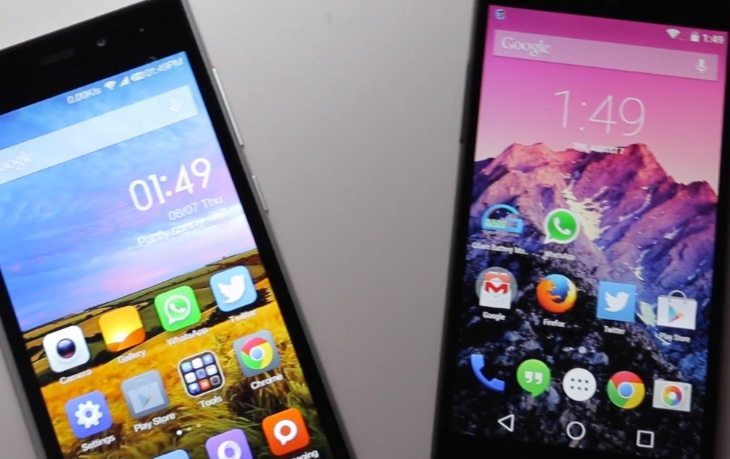 The Xiaomi Mi3 smartphone released in December but its release has been slow to roll out to all regions. For example, the phone only arrived for sale in India a few weeks ago where it has seen extraordinarily big demand. The Google Nexus 5 by LG also released late last year and has been extremely popular. Today we're comparing the Xiaomi Mi3 and Nexus 5 in a specs breakdown to show what they have to offer.
The Nexus 5 has been a big hit with Android device enthusiasts, thanks to its pure Android experience and also its competitive cost against other phones of its type. However, the Xiaomi Mi3 also has plenty to recommend it and has a very reasonable price tag. We'll run through the key specs of each so you can see how they stack up against each other.
Processors
Both of these phones have a 2.3GHz Snapdragon 800 quad-core processor and Adreno 330 graphics, so nothing between them on this score.
Display
The Xiaomi Mi3 has a 5-inch IPS LCD display with resolution of 1920 x 1080 and 441 ppi. On the other hand the Nexus 5 has a 4.95-inch True HD IPS+ display with 1920 x 1080 resolution and 445 ppi.
RAM and Storage
There's 2GB of RAM for the Xiaomi Mi3 and 16 or 64GB models for internal storage (non-expandable). The Nexus 5 has 2GB of RAM and 16 or 32GB of internal storage, also non-expandable.
Camera set-up
The Xiaomi phone has a 13-megapixel rear camera with autofocus, dual-LED flash and 1080p video capture, as well as a 2-megapixel front-facing camera. The Nexus handset has an 8-megapixel rear camera with autofocus, LED flash, optical image stabilization, and 1080p video capture, along with a 1.3-megapixel front-facing unit.
Battery
The Xiaomi Mi3 has a 3050 mAh battery while the Nexus 5 has a 2300 mAh battery. Both are non-removable.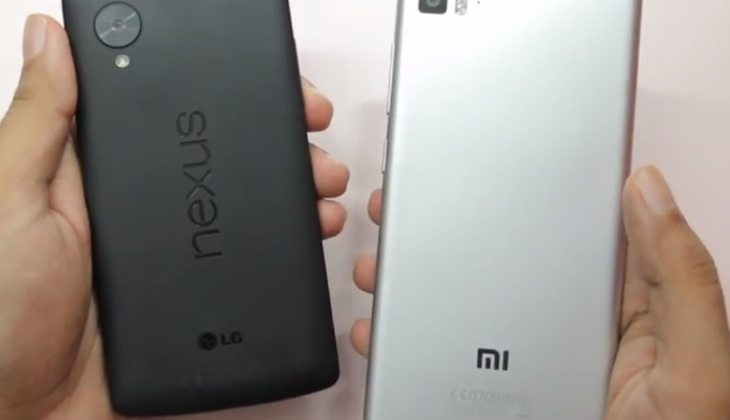 Connectivity
Both phones support 3G, Wi-Fi 802.11 a/b/g/n/ac, Bluetooth 4.0, GPRS, EDGE, NFC and microUSB 2.0. However, the Nexus 5 also supports 4G LTE.
Operating System
The Mi3 launched on Android 4.3 Jelly Bean, upgradable to Android 4.4.2 KitKat and skinned with MIUI v5. The Nexus 5 launched on Android 4.4 KitKat, upgradable to Android 4.4.4.
Dimensions and Weight
The Xiaomi Mi3 measures 144mm x 73.6mm x 8.1mm and weighs 145g. The Nexus 5 measures 137.9mm x 69.2mm x 8.6mm and weighs 130g.
Price
Both of these phones are sold in various world regions and prices vary by country, retailer and storage model. However, generally the Xiaomi Mi3 is quite a bit cheaper than the Nexus 5.
We haven't mentioned all of the various features for these phones or their individual designs, but you can see much more about them in the YouTube video that we have embedded below this story. This will give you the opportunity to get a good look at the handsets and an idea of which would best suit your own requirements.
These are both great phones that have received a lot of positivity in reviews and present a good user experience. However, if you're one of our readers in India you will know how hard it has been to get hold of the Xiaomi Mi3 there, with demand far outstripping supplies as we reported on yesterday. It's also worth pointing out that a Google Nexus 6 is expected to be made official in the next few weeks or months, so you might want to hold on and see what that has to offer.
If you have considered purchasing either of these smartphones, which is it most likely to be. Is your choice the Xiaomi Mi3 or the Nexus 5? We'd like to hear your comments.