Android L release prediction by update history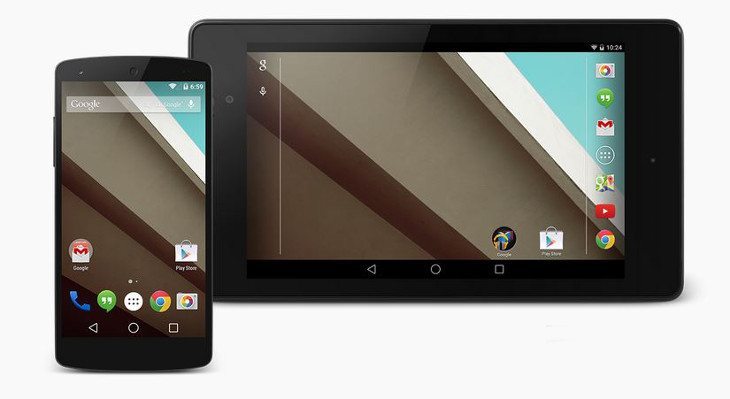 The "Android Experience" is a phrase we hear a lot lately, especially with the incoming Android L release. Your Android experience can be hampered by excruciatingly slow updates, and if you're wondering if your handset will receive the Android L update, you're not alone.
Android L is the name given to the latest version of Android, and a lot of folks are wondering when or if their handset will get the new update. It's a valid question considering some smartphones are still stuck on 4.3, and there are plenty of mid-rangers on 4.2.
Thankfully, the folks at ARS Technica have put together a handy chart that gives you a breakdown of how long it took KitKat to land on devices after it was released. Just keep in mind, their "start day" was in October of last year right when the Nexus 5 dropped.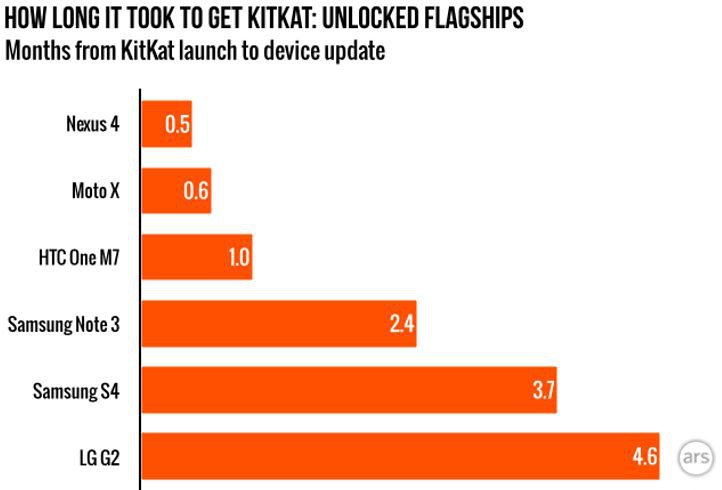 As you can see, the Nexus 4 got the update quickly followed by the Moto X, which was directly tied to Google. HTC was fast to push KitKat to the HTC One, but as you'd expect, Samsung took a while even on unlocked devices. As for the Android L release, you can expect it to hit the Nexus 5 quickly before moving on to this year's flagships like the LG G3, HTC One M8, Galaxy S5 and others.
Before you get too excited about the Android L update, keep in mind the chart shows "unlocked" devices, not one's tied to the carrier. That is a different story as you'll see from the chart below.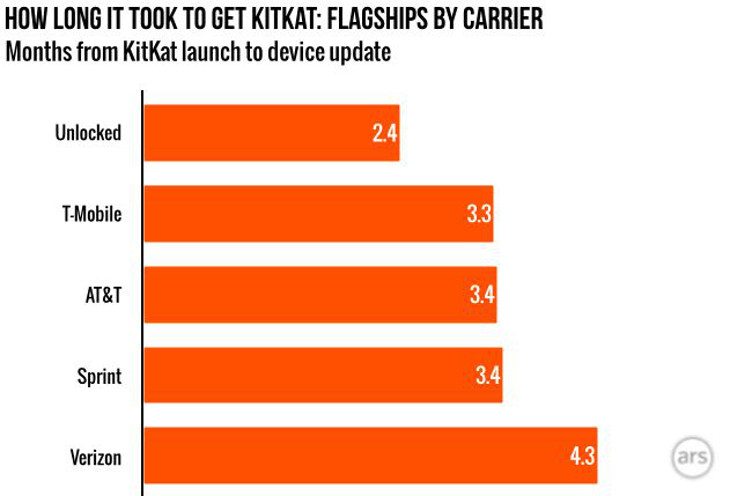 When it comes to pushing an Android update out via carrier, it's a totally different story. T-Mobile, Sprint and AT&T are all neck and neck as they averaged around 3 ½ months to push out the update. Verizon, known for being the biggest carrier and most expensive carrier in the United States is dead last. This comes as no surprise to anyone that's on Big Red's network — they are slow.
What should you take away from this? Well, if you want the Android L update in a timely fashion, you will want to pick up a new Nexus or one of the new Motorola handsets set to debut next month. We honestly don't see Samsung improving their times, and the same can be said for Verizon. In the US, carriers play a big part in the waiting game, and T-Mobile has generally been faster than the competition.
While we don't know when the Android L release is coming, it's going to bring some major changes along with it when it arrives. Pick your carrier and device with caution if you can't go unlocked as nobody wants to wait until 2015 to get the Android L update.
Via – ARS Technica