HTC Desire 820 confirmation boasts 64-bit processor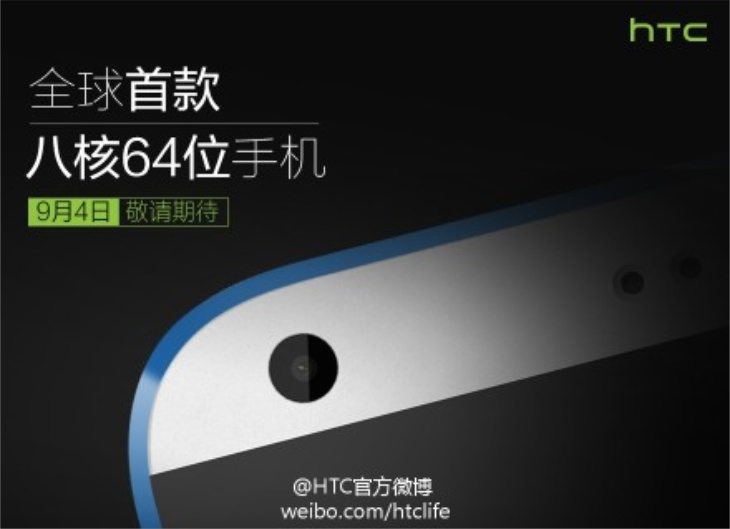 There's some interesting news today regarding an upcoming HTC smartphone that appears as though it will be the first Android phone to release with a 64-bit chip. HTC Desire 820 confirmation boasts a 64-bit processor and it's heading for an unveiling on September 4 at an IFA Berlin event.
Details of the Desire 820 are scant so far, but the phone has been outed on HTC's official Weibo account. The teaser images (one of which you can see below) don't give too much away but do mention the September 4 date and also 64-bit, so it's not too difficult to put two and two together.
Apple's iPhone 5S already carries a 64-bit chip and HTC could now beat other major manufacturers to the market with a 64-bit Android phone. The Desire 820 is said to be a mid-range phone and the accompanying text on one of the images states it will be the "world's first octa-core 64-bit phone," so HTC seems pretty confident that they will be the first across the line on this score.
GSM Arena's report on this octa-core 64-bit phone summarizes that if HTC is using a Qualcomm chipset then it has to be the Snapdragon 615, which has 8 Cortex-A53 cores and is the 64-bit replacement of the earlier Cortex-A7. In this case the phone would also have Adreno 405 graphics.
A few weeks ago we informed readers about another upcoming mid-range HTC phone dubbed the HTC A11, which was purported to be a Desire variant with a Snapdragon 410 64-bit processor. Although initially this could be confused with the Desire 820 this latest information suggests that's a different phone entirely.
It's not much longer now until September 4 when all will become clear so do check back with us for more. Are you pleased to hear about the octa-core 64-bit HTC Desire 820?