The Samsung SM-A500 specs show a Galaxy Alpha Variant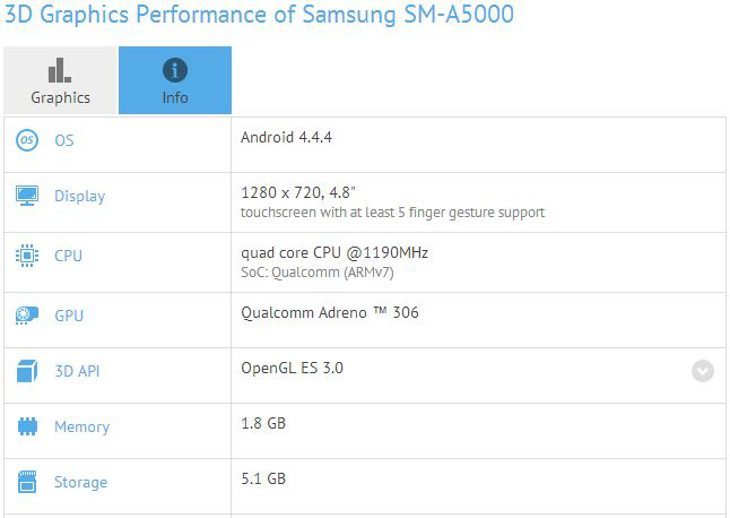 Benchmarks are a great way to find out what lies under the hood of upcoming or unannounced devices. Case in point, the Samsung SM-A500 specs which have just hit the net through the benchmarking site GFXBench.
Last week, rumors hit the net in regards to a new smartphone lineup from Sammy dubbed the Galaxy A Series after the newly released Galaxy Alpha. One of the devices mentioned carried the model number SM-A500, and it just showed up in a benchmark listing on the popular site GFXBench.
The Samsung SM-A500 specs show a 4.8-inch device with the same 720p display found on the Galaxy Alpha. The new Snapdragon 410 will be under the hood alongside 2GB of RAM and 8GB of internal storage. The rear shooter is listed as 12MP while the front-facing camera clocks in at 4.7MP. The SM-A500 is shown to be running 4.4.4 as well, and the only other thing to note is that it's sans NFC.
If the Galaxy A Series rumors are true, the Samsung SM-A500 specs certainly show a device that belongs in that lineup. That said, some of the specs seem a bit odd, so we'll just have to wait and see how this one pans out. Is a metal Galaxy A lineup something you want to see?
Via – Phonearena