The Best Fantasy Football Apps for Android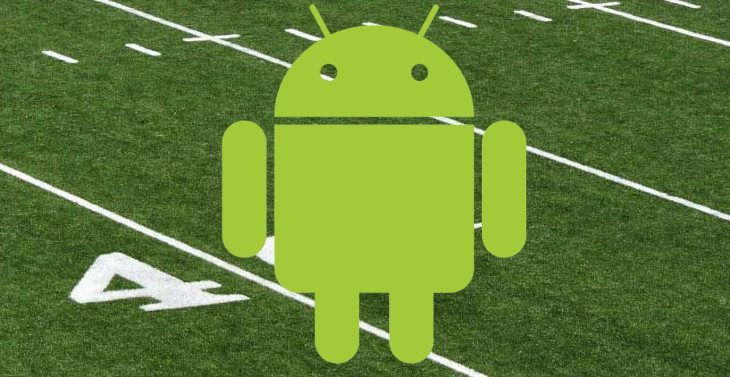 The NFL season kicked off on Thursday night, and we've got a full slate of games ahead of us on Sunday. If Fantasy Football is your thing, there are plenty of Fantasy apps to choose from on Google Play. With that in mind we've compiled a quick list of the Best Fantasy Football Apps for Android.
There are many ways to play fantasy football, but we're going with the oldest first — Yahoo Fantasy Football. You can join random leagues in an instant, setup your own custom leagues, and there's a wealth of options to choose from if you want to be a commish. You can even play for money this year, and the official app allows you to draft, set your lineup, and even propose trades. It's numero uno on our list of the Best Fantasy Football Apps for Android, and it's free to download and play.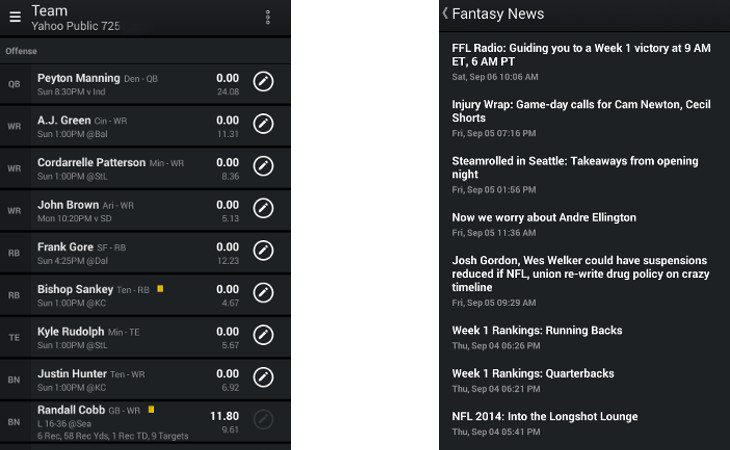 Whether you're a rookie or a pro, the draft can be daunting. The Fantasy Football Dominator 14' lives up to its name and can make draft day a breeze. You'll get recommendations for each pick depending on how your league's setup, and it's compatible with every type of league under the sun. Serious, it can handle IDP, Multi-Flex, Keeper Leagues, and PPR among others. That's just the tip of the iceberg as the Dominator has more features than we care to count. It's not cheap, but the Fantasy Football Dominator '14 is well worth the $4.99 price tag.
There's nothing worse than not being able to track your favorite team while they are on the field. You'll never have to worry about that again with theScore: Sports & Scores as it has the scoop on damn near every sport under the sun including football. You can get keep a constant eye on your players and the updates are almost instant — take if from a Fantasy Football junkie. It's streamlined, it has all the scores you could need, and best of all it's free.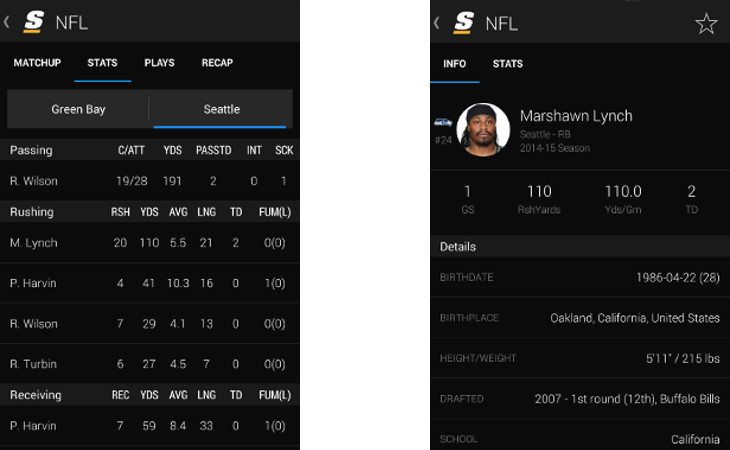 ESPN Fantasy Football is the preferred app and game of a lot of folks. The app is lacking in some areas, but it's still offers up almost everything you could want from a Fantasy Football app. You'll get alerts if a player goes down, draft live auctions or snake drafts, and manage your roster on the go. You can even talk a little smack if you're feeling confident, and there are plenty of social features to boot. The ESPN Fantasy Football app is free to download on Google Play.
The Fantasy Football apps listed are just a small sampling of what the Play Store has to offer. Pro's will note some obvious exclusions, but our list of the Best Fantasy Football Apps for Android has everything you need to get started if you're new to the game.
Which Fantasy Football app is your favorite for 2014?