Samsung Rugby 4 is headed to AT&T on October 10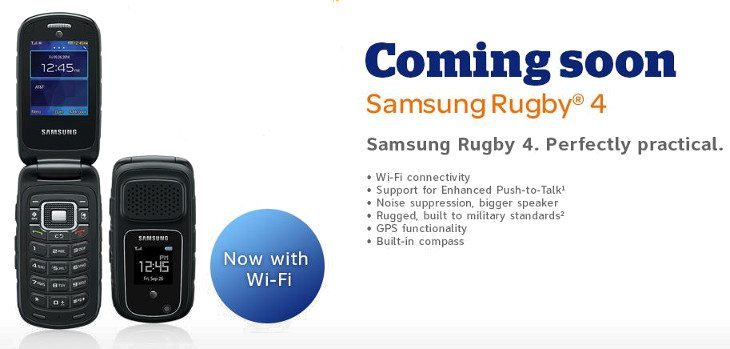 Flip Phones. It's a design that just won't go away, and while you don't see many clamshell's in the states a new one is one the way. The Samsung Rugby 4 is a rugged little handset, and it's coming to AT&T this week on October 10th.
The Samsung Rugby series has been around for a while, and if you long for the good old days of the flip phone, it's a device you may want to look into. The Samsung Rugby 4's claim to fame is its toughness, so you can expect IP67 dust and water resistance along with MIL-STD-810G certification. This means it can handle vibrations, shocks and extreme temperatures along with rain and dust. The design of the phone also helps keep the inside safe because that's how flip phones roll.
As for the specs, the Samsung Rugby 4 is essentially the same as the previous models, but with an important addition… Wi-Fi. The Rugby 4 is the first PTT device in the series to have Wi-Fi, and it will also have a built-in compass and enhanced speakerphone. Other than that, the details are light, but it's safe to say it isn't a powerhouse.
The Samsung Rugby 4 is priced at $269.99 unlocked through AT&T or you can pick one up for $99 bucks on a new 2-year contract. It's obviously not going to be a handset for everyone, but it will be available on October 10th if you're looking to pick one up.
via – AT&T