Samsung Galaxy S4 on Verizon gets new update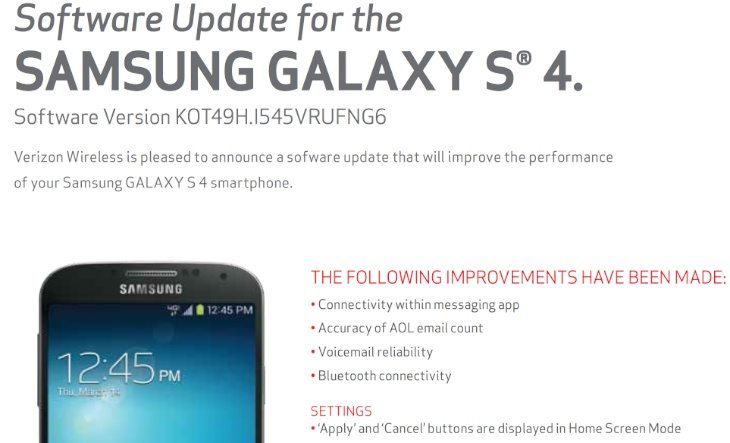 It's always good to bring news of software updates for mobile devices and if you have the Verizon Samsung Galaxy S4 it's your turn this time. The Samsung Galaxy S4 on Verizon is now getting a new update and it has just started rolling out.
Verizon has officially announced the update for the Galaxy S4 as build VRUFNG6 and it includes various enhancements for performance and a fix for a Keyboard issue. There are improvements for Voicemail, Bluetooth connectivity, accuracy of AOL email count, and also connectivity within the messaging app. Meanwhile for Settings the 'apply' and 'cancel' buttons now shown in Home Screen mode.
As well as this the update also adds further support for apps and services, such as Knox 2.0, Softcard, My Verizon Diagnostics, and more. You may already have received notification of the update, but if not you should bear in mind that these updates can take a few days to roll out to all users so you may need a little patience.
If you don't want to wait any longer you can check manually by heading to Settings followed by About Phone, then Software Updates, followed by Check for Updates. You can find out more about the new software update for the Galaxy S4 on Verizon at this support page or find step-by-step instructions for downloading the software at this page.
It would be interesting to hear from readers who have the Samsung Galaxy S4 on Verizon about this latest software update. Have you already downloaded and installed it? If so, what do you think of the changes and improvements it offers? Drop us your comments in the box below.
Via: Droid-Life