Google announces the Nexus Player Android TV box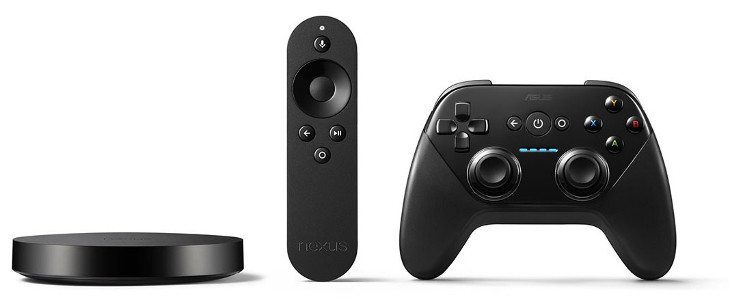 It has been a great day to be an Android fan as Google has put on quite the show without even holding an event. The new Nexus line has been announced, and along with the Nexus 9 and Nexus 6 comes the Nexus Player, one of the first Android TV devices.
We really weren't sure what to expect from Google new Android TV box, as many manufacturers are said to have set-top boxes in the works for the Android TV platform. The Nexus Player console is certainly sleek, as it's a disk shaped device that should look right at home sitting next to your big screen.
The Nexus Player is built to be a media streamer and gaming device, so it's going to need decent hardware to pull that off. Thankfully, we're getting our first look at the specs, and they aren't too shabby for a first-gen device. The Nexus Player will have a 1.8GHz quad-core Intel Atom under the hood, and the graphics will be handled by a PowerVR Series 6 2D/3D engine. It will have 1GB of RAM, and 8GB of storage which we have to assume is expandable.
The rest of the details on the Nexus Player are light, but it will have HDMI out, micro-USB 2.0, Wi-Fi, and Bluetooth 4.1. The included remote has "voice search" just like the Fire TV, and there will be a Bluetooth controller you can purchase to kick the gaming up a notch. As mentioned, the Nexus box will do streaming and a few of the app shown include Netflix, YouTube, Hulu Plus, Pandora and Plex.
No details have been announced in regards to pricing or availability for the Nexus Player, but it is expected to cost around $99 bucks and pre-orders begin on October 17th. The gadget may not have the power of the new HTC Nexus 9 or Moto Nexus 6, but it may sell more units in the long run "if" it can do gaming well. If that's the case, it will definitely outsell the Fire TV and give the Roku a serious run for its money.
Are you interested in an Android set-top box that can handle gaming?
Source: Google