Verizon may get the Samsung Galaxy Note 4 Developer Edition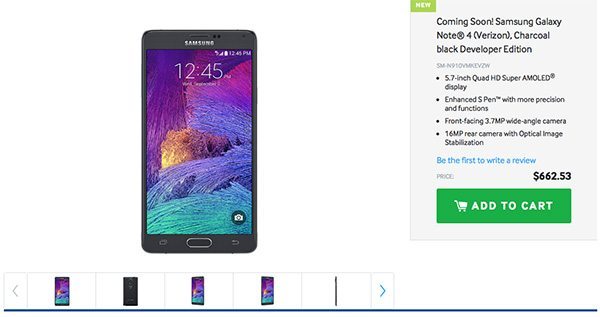 If you're still undecided and don't know whether to get a Samsung Galaxy Note 4 or not, make sure to check out some of the best reviews on the internet, as we've gathered them together in a collection post for your viewing pleasure; maybe they'll help you take a decision. If you're still on the fence, you should also know that, according to the latest reports, Google's latest and greatest, Android 5 Lollipop is on its way to the Samsung Galaxy Note 4, and should land really soon. However, said update will most likely feature all of Samsung's usual bloat which the manufacturer so dearly packs on its smartphones.
Those of you who want to tinker with your devices know that the smartphones that you need to customize have to be unlocked. While unlocking boot loaders on some phones is rather easy, it could be difficult for others. Some manufacturers also offer unlocked editions of their devices, like it is the case with Samsung right here. The previous iteration of the phablet, the Galaxy Note 3, was available in a "Developer Edition" version, and now it looks like the Galaxy Note 4 will follow suit.
Without any bells, whistles, or announcements, the Samsung Galaxy Note 4 Developer Edition has silently popped up on the manufacturer's website (as you can see in the source link below). From that page we learn that said device will be coming to Verizon, but when exactly is yet unknown. There's a "coming soon" label attached, but other than that, no other information is available. There's, however, an interesting thing going on with the price of the phone: Samsung's website asks $662.53 for the phone, which is about $40 less than what Verizon asks for the same phone, granted, not unlocked, and without the "Developer Edition" label attached. It could be a simple error, or we can witness the first phone which is cheaper under a Developer Edition branding than its locked down sibling.
If you're interested, you can find more details by following the source link below to Samsung's website, where you can also find the full spec sheet for the phablet.
Source: Samsung
Via: Pocketnow