Gresso launches the $3,000 Titanium Clad Gresso Regal R1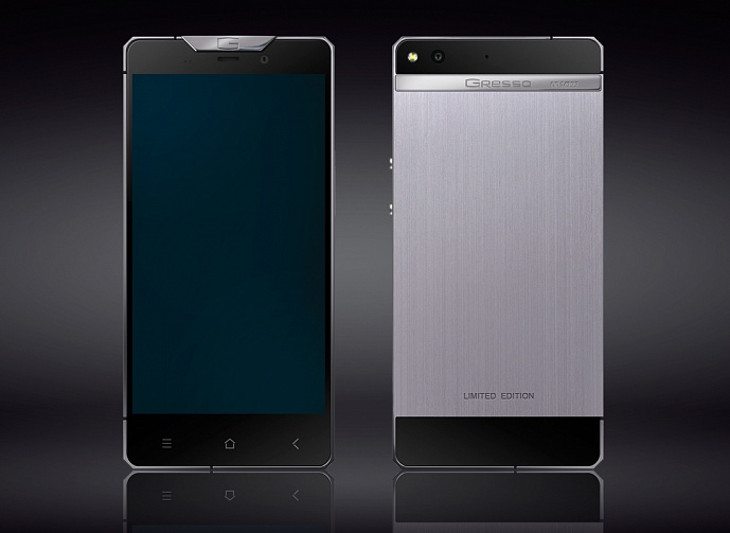 We've covered expensive handsets in the past, and if the Vertu or a Platinum iPhone is a bit too expensive, we may have just the thing for you. It's another handset from the folks at Gresso, and it's called the Gresso Regal R1.
The last time we checked in on Gesso, they had just released the Grand Monaco Pure Black. Since that time, technology has changed significantly so the Gresso Regal R1 is definitely a step up from the Monaco in terms of specs. It's also a sleek device that might just make your buddies drool…
The premium aspect of the Gresso Regal R1 comes from the build quality, not the components. The handset case is made from grade 5 titanium, and it's manually assembled and polished by hand. It's also a limited edition device with a run of 999 units, so you're probably not going to bump into anyone with the same smartphone.
As with most luxury devices, it's all about the looks as the Gresso Regal R1 specs are a bit underwhelming. The Regal R1 has a 5-inch FHD display with a 1.5GHz quad-core processor, 2GB of RAM, and 32GB of internal storage. It has a 13MP rear camera, 5MP front-facing snapper, and is rate to provide 6 hours of talk time or 300 hours in standby mode. As for the OS, you can expect Android… 4.2.1.
While the Gresso Regal R1 specs aren't the worst we've seen, it makes us wonder about the price of titanium these days. The Gresso Regal R1 price is listed at $3,000 which is a little nuts for a titanium shell with average innards. If you've got that much money to burn, you may want to throw in an extra $120 for an Italian leather case — you can even get one in an crocodile skin print. Hit up the link below if you're interested in pre-ordering the Gresso Regal R1.
via – Intomobile