Samsung Galaxy Note 4 TouchWiz vs Nexus 5 Android 5.0 Lollipop review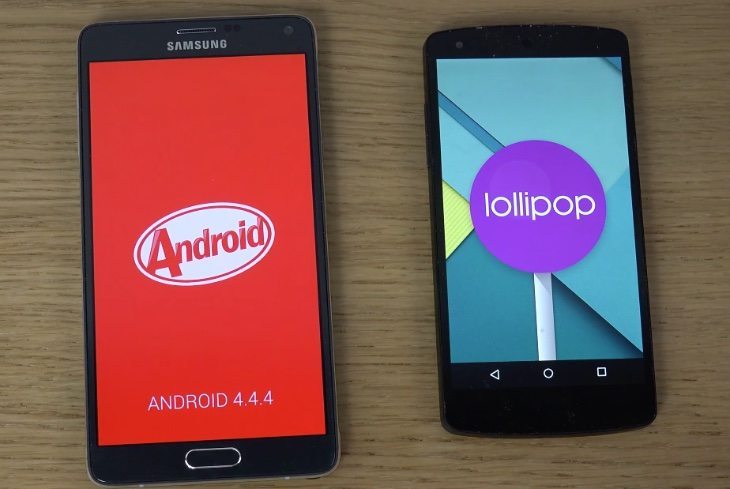 The Android 5.0 Lollipop release is just around the corner for some devices, and the Nexus 5 will be one of the very first to receive the update. The update will then come to further devices, one of which will be the Samsung Galaxy Note 4. Today we're sharing a video review of Samsung Galaxy Note 4 TouchWiz vs. Nexus 5 Android 5.0 Lollipop.
Android 5.0 is currently available for developers, and although there had been hopes that it would be rolled out for Nexus devices this week we recently reported on rumors that the release has been pushed back. Meanwhile Samsung has teased Lollipop for the Galaxy Note 4, but we recently discussed that no timeframes for the update have been given yet for either the Note 4 or Galaxy S5.
Embedded below this story you'll see a YouTube video that shows the Galaxy Note 4 running Android 4.4.4 skinned with Samsung's TouchWiz UI and the Nexus 5 running Android 5.0. It begins with showing the handsets alongside each other and then the Calculator app and Settings being opened up to show the differences. The review moves on to the multitasking view, which looks pretty similar, and then toggles get a mention.
The reviewer also notes that some people are not keen on the TouchWiz UI and prefer the stock Android experience offered by Nexus devices. However, other device users enjoy TouchWiz, so it's interesting here to see how they compare. There's also a look at different gesture use before the video moves on to some other differences between the phones, such as the software for the S Pen stylus use for the Note 4 and the Camera app.
Plenty more is shown in the review and you can check it out in full at the bottom of this article. It's interesting to see some of the differences and also parallels with the software experiences of these two phones and we wonder what you think. Do you prefer the pure vanilla Android experience of the Nexus 5 or the TouchWiz addition offered by the Samsung Galaxy Note 4?