Microsoft Lumia 1330 prospective spot next to Lumia 535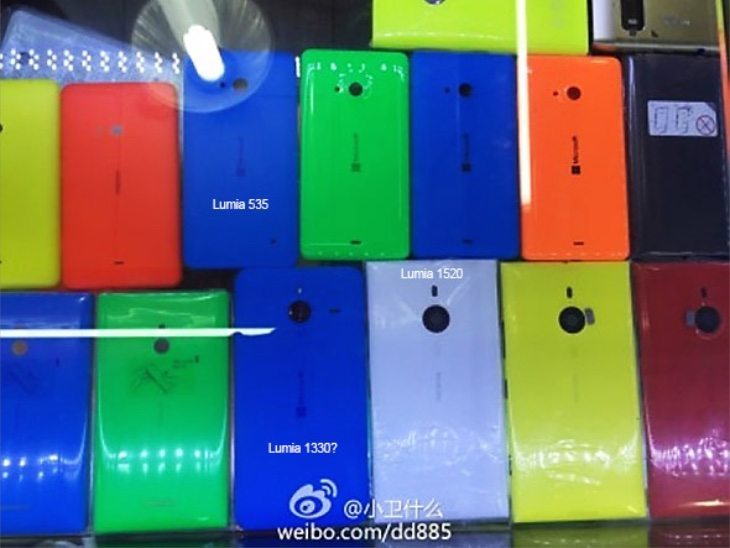 We know that Microsoft is to announce a new Lumia device tomorrow and it's thought that this will be the Lumia 535. This will be the first Microsoft-branded Lumia device rather than having the familiar Nokia name. Now there's news of a Microsoft Lumia 1330 prospective shot, caught in a leaked image with the Lumia 535.
A few days ago we shared some leaked images and specs of the Lumia 535, and if the leak was accurate this is a low-end handset that will be made official tomorrow. However, it now appears that another Lumia device with Microsoft branding that we hadn't yet heard of could also be unveiled.
A larger phablet Lumia has appeared in a new leaked image and although there's not a lot to go on just yet, there are a few pointers. The unknown Lumia device appears next to the Lumia 1520 and the size comparison indicates that the mystery device will have a display size of around 6-inches.
Another indicator is that the design of the unknown handset is similar to that of the Nokia Lumia 1320, and this is what has led to suggestions that this could be a Lumia 1330. It might be a stretch to think that this could then be made official along with the Lumia 535 tomorrow, but it's certainly a possibility. However, specs along with just about everything else remain unknown at this point.
We'll certainly be following the Lumia news tomorrow and hope that this unknown phablet could turn out to be a new high-end Microsoft Lumia phone to go with the low-end Lumia 535. We'd like to hear your thoughts on this. Do you think this unknown phablet could possibly be a Microsoft Lumia 1330?
Source: WindowsBlogItalia
Via: GSMArena