Microsoft announces the budget Lumia 535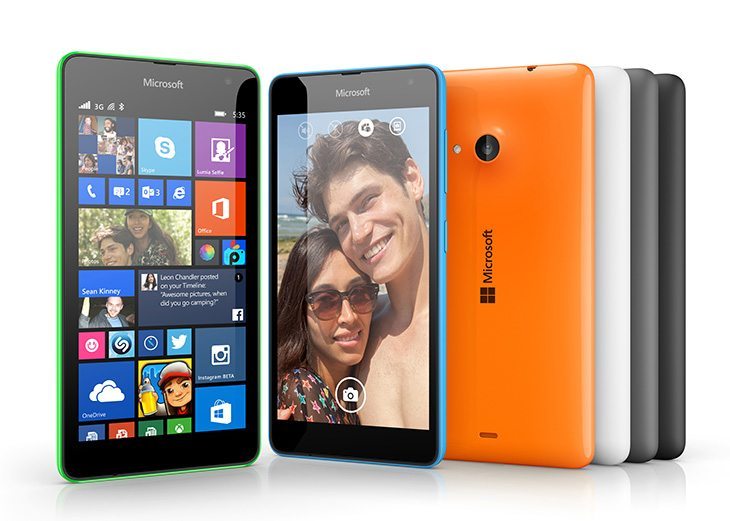 Last week we've seen Microsoft officially teasing the Lumia brand with a hashtag #MoreLumia, and it was clear that the first ever Microsoft Lumia smartphone would be unveiled on November 11. We've also seen some aspects of the phone leaked earlier. After Microsoft's purchase of Nokia's Devices and Services division, it was clear that at one point, the Lumia Windows Phone line-up made by Nokia will get a rebranding. Microsoft has been slowly renaming social media outlets as well as other Nokia Lumia branding and signage to Microsoft Lumia, and now, the first ever Microsoft Lumia smartphone has become official.
The Microsoft Lumia 535 is a budget mid-range smartphone, which the Redmond-based company calls "5x5x5". The Microsoft Lumia 535 comes in pair with a dual SIM version, and it brings Windows Phone 8.1, and "the latest Microsoft experiences to more affordable price level". The phone features a five-inch display with qHD resolution (that's quarter HD, not Quad HD) and it also packs a five-megapixel wide-angle front-facing camera.
Regarding all those number fives (5), in the name, as well as the "5x5x5" tagline, Microsoft's Jo Harlow, corporate vice president for Phones, had this to say: "Lumia 535 comes with our '5x5x5' proposition". Innovation should be available to everyone, and we are doing this through the very best integrated Microsoft services included and out of the box, a 5MP wide-angle front-facing camera, and a spacious 5-inch qHD screen – all at an affordable price."
The Microsoft Lumia 535 (and its dual SIM sibling) will be available in "key markets" starting this month. Color options include bright green, bright orange, white, dark grey, cyan and black. As far as the pricing is concerned, the first Microsoft Lumia smartphone will set you back around 110 euros before taxes and subsidies, depending on the market and network operator. That's around 135EUR or 85GBP, which is a decent price given the capabilities of this smartphone, which, does come with access to the entire package of Microsoft's newest services, like Skype or OneDrive (with which you get 15GB free storage included).
Do you think that the first Microsoft Lumia should have been a flagship, or do you think that Microsoft is on the right path, trying to bring the platform in the hands of more people, through an affordable price tag?
https//www.youtube.com/embed/05TGNfXkjUI
Source: Microsoft, Lumia Conversations