iOS 8.2 beta 2 brings fixes and improvements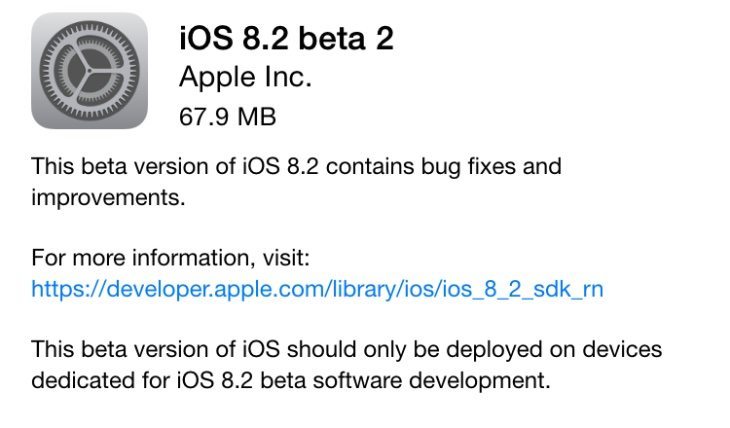 It's always good to hear of new beta arrivals for Apple iOS updates, and in November Apple seeded iOS 8.2 beta 1 to developers. Now iOS 8.2 beta 2 has also arrived for devs, bringing further improvements and some fixes along for the ride.
After the many problems with iOS 8.x updates that have been widely documented, when we first heard about iOS 8.2 beta 1 arriving a few weeks ago we were disappointed that there was no mention of further fixes for problems arising from iOS 8.1.1. We hoped that Apple might push out an iOS 8.1.2 update before the public release of iOS 8.2, and that's exactly what happened as Apple pushed out 8.1.2 in the last couple of days containing fixes.
Now the second beta of 8.2 is available for developers only. It's build 12D445d and can be accessed via the iOS Developer Center or as an OTA update. One of the focuses of iOS 8.2 is the WatchKit SDK with support with tools for developers to prepare for the Apple Watch release next year, and beta 2 contains Xcode 6.2 beta 2 with WatchKit.
It also has some WatchKit fixes. One fix is for an issue in iOS 8 simulator whereby WatchKit apps stopped working, and another fix is for a bug that prevented notifications opening in an app. Other inclusions on the iOS 8.2 beta 2 release notes are support for Singapore English in Siri and keyboard fixes in iOS simulator.
There's no news yet on when iOS 8.2 will be ready for prime release but we'll keep you up to speed as we hear further developments on this. The wide consensus of opinion though is that we'll see a public release of iO8.2 in early 2015. If you have any thoughts about the iOS 8.2 beta 2 arrival, drop us a comment in the box below.
Via: MacRumors