New HTC Hot Deals Promo shaves 20% off smartphones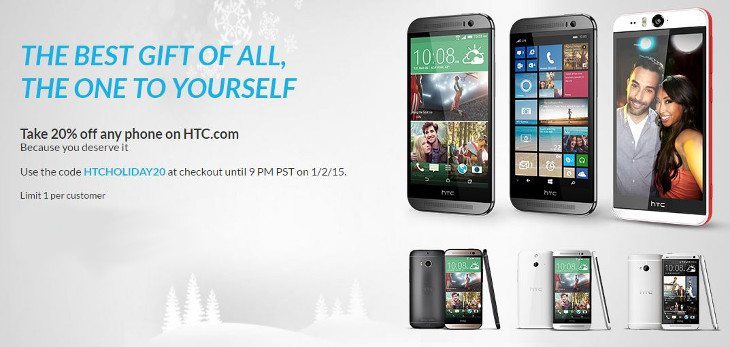 The last time we took a look at an HTC promo, it was the "Hot Deals" sale last month that knocked 20% accessories. Ready for something a little more grand? The new HTC Hot Deals Promo is timed well for anyone in the market for a new handset as the company is shaving 20% off devices from HTC's online shop.
HTC has surprised a lot of us with their Hot Deals sales, and while the latest one doesn't measure up to the epic Nexus 9 deal, it's pretty darned good. The new HTC Hot Deals Promo is putting 7 smartphones on sale at 20% off, and all you need to do is enter a coupon code online. It's as simple as it gets, and there is a little something for everyone.
If you are looking for a flagship, the HTC One M8 and HTC One M8 for Windows are up for grabs as is the HTC One M8 Harman Kardon Edition. On the cheaper side of things, you have the option of the HTC One E8 or the HTC One Remix. Last but not least, is an older device in the HTC Desire 610 and one of the newer ones with the selfie-snapping HTC Desire Eye.
How much you save in the HTC Hot Deals Promo depends on which device you choose as the prices vary by model. The Desire 610 unlocked is listed at $299 while the M8 One for Windows will set you back $649. That's the price before the 20% discount, and the deal is good from now until 9PM PST on January 2nd. You will want to act fast however as the Harman Kardon Edition and Desire Eye are already showing up as "out of stock" at the time.