HTC set to unveil new Desire smartphones as CES 2015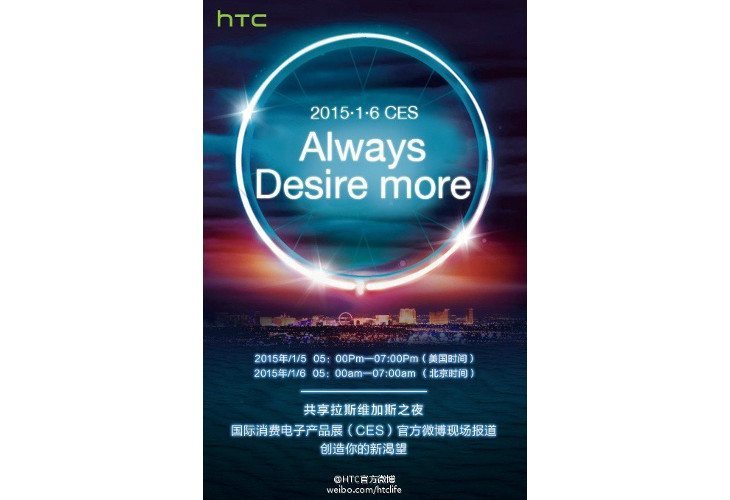 CES 2015 kicks off next week, and HTC is going to be one of the busier companies at the big show. They have been dropping teasers for a week, and today we got a new one that is a bit unexpected as a new HTC Desire smartphone is on the way.
HTC unleashed an interesting teaser this morning for an unknown device from the HTC Desire series. The teaser was posted on Weibo with a date of January 6, 2015 and the tagline, "Always Desire More" inside a large circle. That's all we have to go on, as there really hasn't been any mention of a new Desire device in the pipeline and we don't believe it's a teaser for a mediocre mid-range Desire handset.
We've seen the HTC Hima M9 leak numerous times this month, but it certainly doesn't fall in the Desire range. The HTC A12 is a possibility though, and we covered that one earlier this month. The A12 smartphone leaked from @upleaks and is said to be a mid-ranger with a 64-bit SoC. The updated processor (and US availability) makes it the most likely candidate for CES 2015 at this time.
HTC is usually one of the first companies out of the gate with new products, and it looks like we'll get to say hello to a new HTC Desire handset at CES. While we are still a week away, don't be surprised if we see a few more Desire leaks pop up before the big event on the 6th.
What do you think HTC's new Desire smartphone will have under the hood?