New Microsoft Lumia 1430 vision includes specs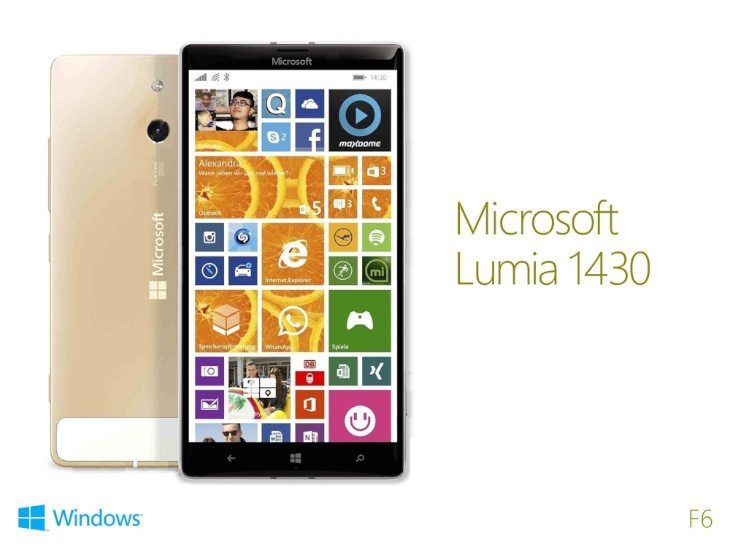 New Microsoft Lumia smartphones are expected before too much longer, but in the meantime we can tease ourselves by looking at concept designs for future prospects. Recently we showed a Microsoft Lumia 840 design based on the Nokia N8, and the same source has now come up with a new Microsoft Lumia 1430 vision that includes specs.
The render you can see here is said to inspired by the designs of the Lumia 1520 and Nokia 515 and has a unibody aluminum build with slim bezels on the front and a gold colored rear casing. We're not too sure about the white area at the bottom, but if it's not a design touch it could possibly be a lid to cover the slots.
The designer of this concept Lumia 1430 has also provided some high-end specs for the handset. These include a Snapdragon 615 processor, a 6-inch IPS display with resolution of 1920 x 1080, 2GB of RAM, and 16GB of internal storage that's expandable to 128GB via microSD.
Further specs are a 16-megapixel PureView rear camera with Zeiss lens and a 5-megapixel front-facing camera. As you would expect, this phone would be running Windows 10 for mobile. You might also be interested in checking out another concept from Microsoft Lovers, this time a Microsoft Lumia 2530 tablet idea.
Are you waiting for Microsoft to release a Lumia smartphone with some top-end specs for the more premium end of the market? If so, would you like it to resemble the Lumia 1430 render shown here? It would be interesting to receive your comments on this design.
Source: Microsoft Lovers (Facebook)
Via: Concept Phones