BlackBerry Classic now up for grabs at Carphone Warehouse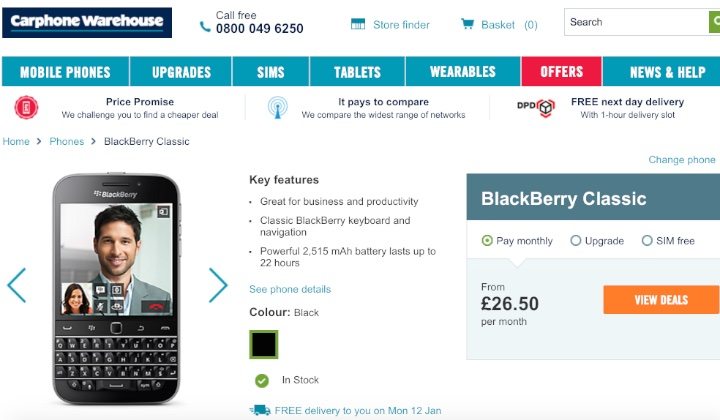 Last month we gave readers some details of which UK sellers would be offering the BlackBerry Classic smartphone. We knew that Carphone Warehouse would be selling the device, while some other retailers included Vodafone, O2, EE, and Selfridges. We can tell you today that the BlackBerry Classic is now available from Carphone Warehouse, and we also have some price details.
The BlackBerry Classic has already launched been launched at Selfridges, Vodafone, and BlackBerry Direct, and Carphone Warehouse has joined their ranks and has the phone up for grabs from today. Various contract plans are available or if you want to buy it SIM-free the price is £329.99.
Pay Monthly 3G plans are available on T-Mobile and Orange, while Pay Monthly 4G plans are available on EE, O2, and Vodafone. The lowest price for a 4G plan is on Vodafone starting from £26.50 monthly. That will get buyers 1GB of data per month as well as unlimited minutes and texts.
Alternatively if you want the phone on O2 then prices start at £28 per month or for EE it's from £30.99 monthly. Both of these plans offer 1GB of data although the EE plan has a limit of 1000 minutes. Buyers who want more data might want to consider a Vodafone plan at £31.50 monthly that offers 4GB of data. On O2 you can get 5GB of data for £33 per month or on EE, 4GB of data at £38.99 each month.
The phone has a physical QWERTY keyboard, a big bonus for fans of traditional BlackBerry handsets. It runs BlackBerry 10.3 and specs include a 1.5GHz dual-core processor, a 3.5-inch display with resolution of 720 x 720, 2GB of RAM, and 16GB of internal memory (expandable via microSD to 128GB). It also has an 8-megapixel rear camera and 2-megapixel front-facing unit, and a 2515 mAh battery.
To see more about the Classic and all of the available plans at Carphone Warehouse please head to this product page. At the time of writing it's in stock ready for delivery on Monday January 12th, so you could get this phone in just a couple of days if you order now.
Do you like the look of the BlackBerry Classic, and will you be ordering it from Carphone Warehouse? Let us have your comments.
Via: Fone Arena