The ViewSonic 69Q smartphone specs show a Massive 7-inch display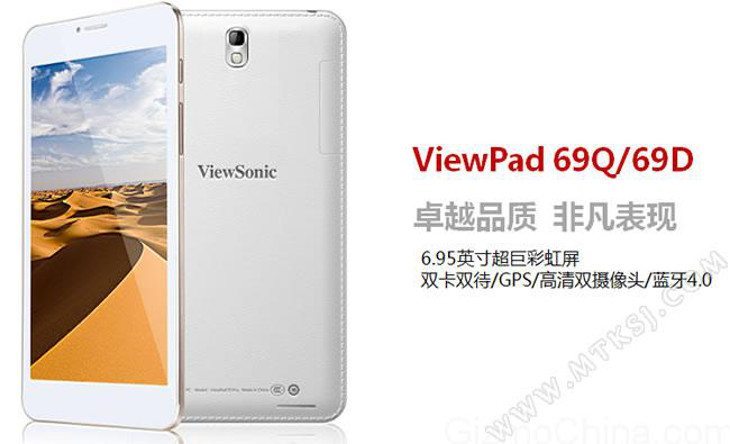 We don't cover many product from ViewSonic, but occasionally they drop a handset that makes us take notice. The ViewSonic 69Q is one such smartphone, and it specs show a huge display that may come with a very low price tag.
We have often discussed smartphone size, and 5.5-inches seems to be an acceptable range for a lot of consumers these days. When you get above 6-inches, things get a little crazy, and the 7-inch 1,024 x 600 display on the ViewSonic 69Q is well beyond phablet territory. It is absolutely massive, just don't expect the rest of the specs to measure up to that display.
Under that big slab of glass, you'll find a 1.3GHz quad-core chip humming along and backed by 1GB of RAM. You'll get the standard mid-range 8GB of storage to work with, but it is expandable thanks to a microSD slot. It has dual cameras of an unknown resolution, and the only other thing we know is that it will run Android 4.4 KitKat and has dual-SIM functionality.
The ViewSonic 69Q isn't going to be an easy smartphone to snag as it's expected to arrive in China, and we're unsure of international availability at this time. The price is also up in the air, but is expect to fall between $120 – $150 as the dual-core version is already up for 699 Yuan which comes out to around $112 bucks.
via – GizmoChina    source: mtKSJ