Microsoft Lumia 1330, 1335 dual render inspired by leaks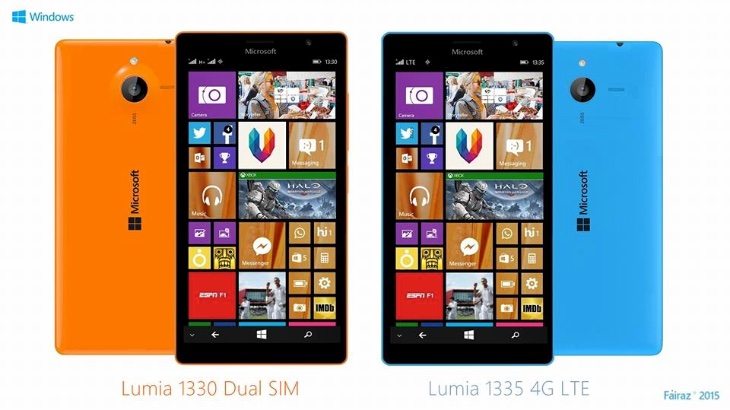 There have been plenty of leaks about the Microsoft Lumia 1330, which is thought to be heading for a launch soon. While we're waiting it's often interesting to take a look at visions of upcoming devices, and today we have a Microsoft Lumia 1330 and 1335 dual render to share, based on rumored specs and images so far.
As far as the real deal is concerned there was a recent benchmark spot of the Lumia 1330 that gave us some idea of what to expect. Now this new concept comes with specs and features for the 1330 and a 1335 variant, some reflecting the specs that have been leaked. These renders were created by Microsoft Lovers, who have been coming up with plenty of concepts lately, including a Microsoft Lumia 1430 and also a Lumia 840.
This Lumia 1330 is a dual SIM handset while the Lumia 1335 is a 4G LTE smartphone. One has 1GB of RAM while the other has 2GB of RAM, and they have Snapdragon 400 or 410 processors. Both have a 5.7-inch Clearblack display with 720p resolution, 32GB of internal storage, a 14.1-megapixel Pureview rear camera with Zeiss optics and optical image stabilization, and a 5-megapixel front-facing snapper with wide angle lens.
Juice is supplied with a removable 3500 mAh battery. They feature regular polycarbonate casing and have Qi wireless charging using a special cover. If you're wondering what operating system is running these phones it's the Windows Phone 8.1 Update 2 with Lumia Emerald.
It would be interesting to hear your views on this Microsoft Lumia 1330 /1335 combo? If the genuine Lumia 1330 largely tallies with this design and specs, will you be satisfied? Send us your comments on this.
Source: Microsoft Lovers (Facebook)
Via: Concept Phones