HP introduces five new Pro series Android and Windows tablets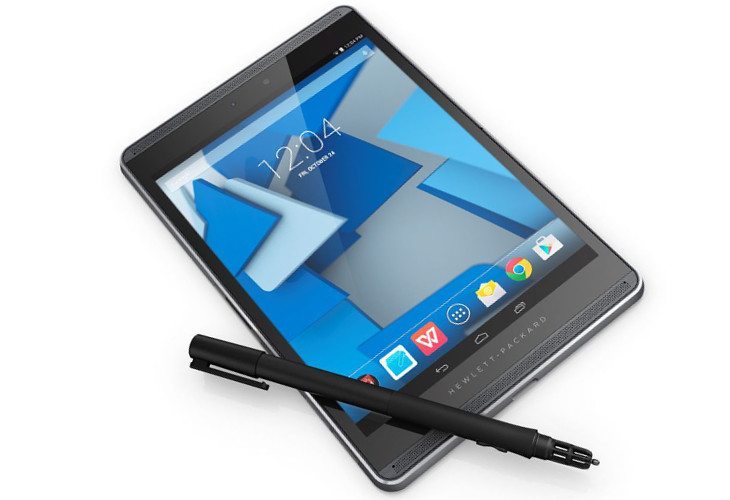 You can find a tablet in almost any size these days, from 7-inch slates to tablets well over 20-inches. HP is no stranger to the tablet game, and today they announced five new slates with the HP Pro Slate 12, Pro Slate 8, Pro Slate 10 EE, Pro Tablet 10 EE and the Pro Tablet 408.
The HP Pro Slate 12 and Pro Slate 8 are the main stars of the show, and both come with HP's Duet Pen. The new stylus will allow you to write on any surface and watch magically as the words appear in your handwriting on the tablet. Pretty nifty, and while the stylus comes with the Slate 12 and Slate 8 it will also work with the Slate 10 EE and Tablet 10 EE.
As for the specs, the HP Pro Slate 12 will sport a 12.3-inch display with a resolution of 1,600 x 1,200 while the Pro Slate 8 has a 7.9-inch display with a rez of 2,048 x 1,536. Aside from the screens, the innards are the same and both will have a Snapdragon 800, 2GB of RAM and front-facing stereo speakers. The HP Pro Slate 12 is priced at a whopping $569 while it's little 7.9-inch brother costs $449 — both are listed as running Android 4.4.
Next up, is the HP Pro Tablet 10 EE which runs Windows 8 and Pro Slate 10 EE that runs Android 4.4. These are identical, so you're looking at a 10.1-inch display with a resolution of 1,280 x 800 and a 1.33GHz Atom processor under the hood. The slates will rock 1GB of RAM, but the storage space and battery size haven't been announced at this time. The Windows model will sell for $349 while the Android version is listed at $279. That said, you can get the Windows slate for $299 if you're one of HP's education customers.
In addition to the four slates we've discussed, HP also unveiled the HP Pro Tablet 408. We covered the 8-inch midrange slate earlier in the month, and now we know its price is $299. All five of HP's new tablets will be listed for sale sometime today on HP's official site if you're interested in picking one up.
via – The Verge