Microsoft Lumia 532 vs Nokia Lumia 530 specs and price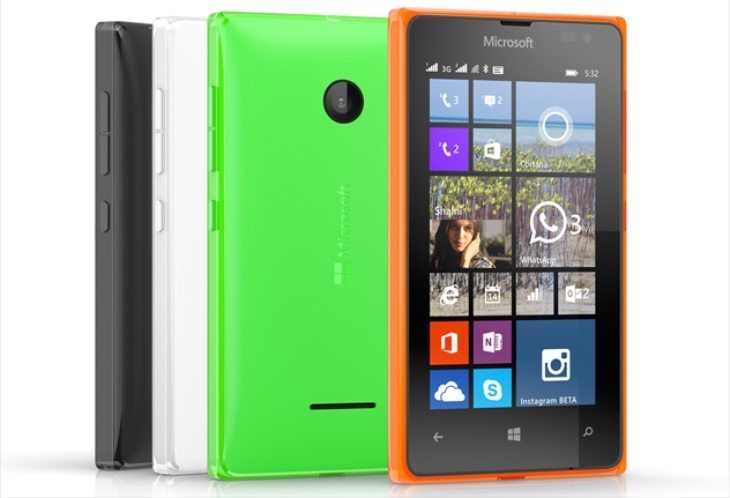 Budget Lumia smartphones are popular in many parts of the world, and Microsoft has just officially introduced the Lumia 532, which will release to various regions in the next few weeks. A natural comparison to this is the Lumia 530, which had Nokia branding and released in August year. If you're wondering how they compare, today we're looking at the Microsoft Lumia 532 vs. Nokia Lumia 530 in a specs shootout.
For the purposes of this comparison we're contrasting the single SIM versions of these handsets, but both are also available in dual SIM models. There are plenty of similarities specs-wise for these two phones, but there are also some differences. They are both priced for the budget end of the market, so let's proceed by checking out some key details.
Processors
The Lumia 532 and Lumia 530 both have a 1.2GHz Snapdragon 200 quad-core processor and Adreno 302 graphics.
Display
Both phones have a 4-inch display, although the Lumia 532 has resolution of 800 x 480 resulting in 233 ppi and the Lumia 530 has resolution of 854 x 480 resulting in 245 ppi.
RAM and Storage
The Lumia 532 has 1GB of RAM and 8GB of internal storage, expandable via microSD to 128GB. The Lumia 530 has 512MB of RAM and 4GB of internal storage, expandable again to 128GB.
Camera set-up
The Lumia 532 has a 5-megapixel rear camera with 480p video capture, as well as a VGA front-facing camera. The Lumia 530 also has a 5-megapixel rear camera with 480p video, but doesn't have a front-facing unit.
Battery
The Lumia 532 has a removable 1560 mAh battery while the 530 has a removable 1430 mAh battery.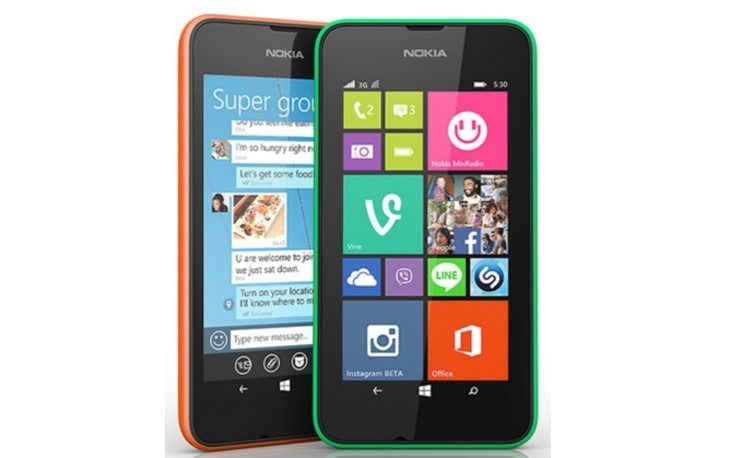 Connectivity
Both phones support 3G, WiFi 802.11 b/g/n, Bluetooth 4.0, GPS, and microUSB 2.0.
Operating System
Both handsets run Windows Phone 8.1.
Dimensions, Weight, Colors
The Lumia 532 measures 118.9mm x 65.5mm x 11.6mm and weighs 136.3g. It comes in black, green, orange or white. The Lumia 530 measures 119.7mm x 62.3mm x 11.7mm and weighs 129g. It's available in dark grey, green, orange or white. (Color availability may change by region).
Price
We cannot be precise here as pricing varies by region and carrier. However, we can say that the new Microsoft Lumia 532 has been given a price of around €79 before taxes and subsidies. That's around £61, $92 or Rs. 5,769 as a direct comparison. The price of the older Nokia Lumia 530 at launch was €85, directly equivalent to around £67, $115, or Rs. 6,900. However, prices varied by region, and also as this handset has been available for a while prices have been lowered in some markets.
It will be interesting to see prices confirmed for various markets when the Lumia 532 hits the shelves, but the pricing difference between these phones doesn't look to be too significant. Therefore when we consider the above there's little to stop us recommending that the new Microsoft Lumia 532 is the better choice.
The slightly higher display ppi of the Lumia 530 is really negligible, and the Lumia 532 has more RAM and internal storage, a higher capacity battery, and a front-facing camera that the 530 lacks, so the decision between them is pretty straightforward. If you were considering buying the Nokia Lumia 530, will you now wait for the Microsoft Lumia 532 instead?