Second generation Moto E 2015 leaked in a press render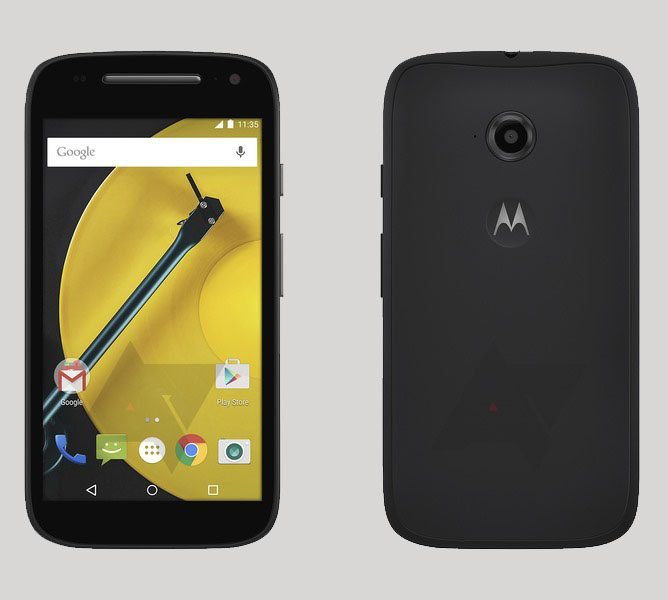 Motorola received a lot of good reviews and gained a lot of reputation (compared to its more recent past) when it introduced the first modern Moto line-up, including the Moto X, Moto G, and Moto E. Out of these phones, the Moto X and Moto G have already received a refresh in 2014, but the Moto E is yet to receive a second-generation follow-up. At the end of last year we heard reports of a 2014 Moto E, detailing its specs (4.5-inch screen, 960 x 540 resolution, Snapdragon 400 processor, 1GB of RAM, five megapixel camera, and Android 5.0 Lollipop), but the year went by without us seeing a second-generation Moto E.
Despite that, Motorola appears to have not given up on the project; if it makes it to the market, it will probably be known as the 2015 Moto E, but that's something we should have really expected, given that the original phone was announced in May of 2014. If a yearly cycle is what we're looking at, the Moto E 2015 should become official in about three months. Until then, however, we're left with the occasional rumors and leaks, out of which the most recent comes to us from AndroidPolice, in the shape of a leaked press render of the device.
While the phone in the picture looks a lot like the Moto G, it is really not, as there is no secondary speaker, and the camera on the back is missing the flash (this particular bit pointing towards a budget-oriented phone). Also, looking at the image and the phone it represents in general, we're clearly seeing a smaller device, judging by the screen, and screen-to-body ratio, lending some credence to the fact that this might indeed be the second generation Moto E.
With Mobile World Congress just around the corner, we wouldn't be surprised to see this device become official at the Barcelona show, in order for it to catch some spotlight and headlines. However, nothing's certain at the moment, but the pure existence of the image above seems to be a good indicator that there will more probably then not be a successor to the budget Motorola phone of last year.
Source: AndroidPolice