Samsung Galaxy S6 release date tipped for the end of March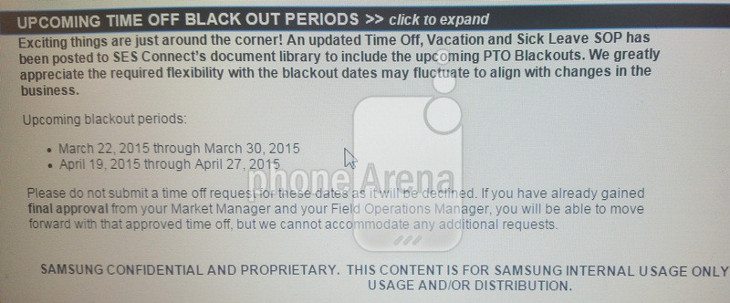 It's no surprise that Sammy is set to unveil its latest flagship next month at MWC, but the actual Samsung Galaxy S6 release date is still up in the air. One of the many Galaxy S6 rumors we've come across today involves that launch date, and it's thought to come right around the end of March.
The folks over at Phonearena have learned the Samsung Galaxy S6 release window thanks to a tip from a supposed employee of Samsung. According to their report, Samsung has initiated a "Vacation Blackout" which starts on March 22nd and ends on March 30th. In a nutshell, they are asking certain employees to forgo any vacation plans until after the end of the month which leads us to believe they need all hands on deck for the launch of a new flagship.
The Samsung Galaxy S5 was announced on February 24th before rolling out on March 27th. The new Samsung Galaxy S6 release date rumor lines up perfectly considering everyone knows the Samsung Galaxy S6 and S6 Edge will be shown off on March 1st. That gives the company a few weeks to handle the Samsung Galaxy S6 pre-orders and line everything up with the carriers. In other words, the report appears to be dead on the money.
It will be interesting to see if Samsung can keep the cat in the bag for a little while longer as we already know about the Galaxy S6 Edge and the Galaxy S6 specs. Now that the Samsung Galaxy S6 release date has possibly been leaked, the only mystery that remains is the actual design of the handset.
Are you getting more excited for the Samsung Galaxy S6 with the latest batch of rumors?
source: Phonearena