iPhone 6 Plus iOS 8.3 beta vs Galaxy Note 4 Lollipop app speed test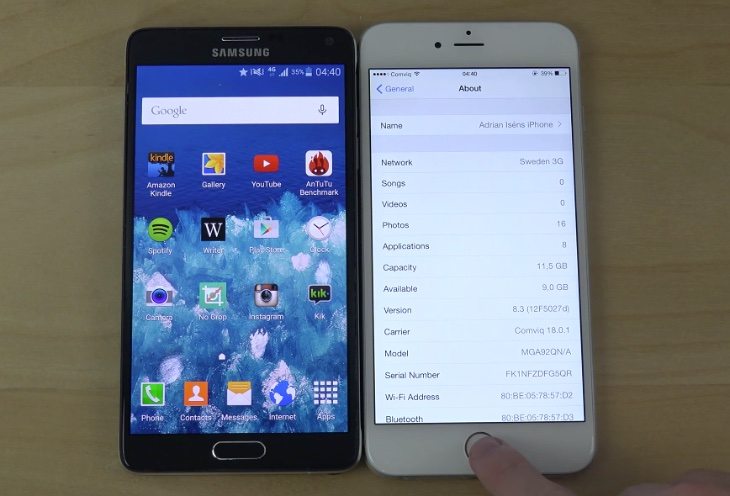 We know that many of our readers enjoy various aspects of testing with top-end devices, as it can be intriguing to see how they compete. New operating system versions are always worth looking at and today we're sharing a video of the iPhone 6 Plus iOS 8.3 beta vs. Samsung Galaxy Note 4 Android Lollipop in an app opening speed test.
The official Android Lollipop rollout has been pretty slow to reach many devices so far, but recently it begun being pushed out to the Galaxy Note 4. It has limited availability for the phablet so far but is likely to reach further regions over the next few weeks. As far as Apple's iOS is concerned there was some surprise recently when the first beta of iOS 8.3 was seeded to developers, despite the fact that we haven't yet seen a public release of iOS 8.2.
Yesterday we shared a video showing the Galaxy Note 4 in an Internet speed test against the iPhone 6. Now we're showing a video of the larger iPhone 6 Plus running iOS 8.3 beta 1 against the Galaxy Note 4 on official Android 5.0.1 Lollipop in a speed test of a different kind. If you scroll down the page you can watch a YouTube video that we've embedded that shows an app opening speed test on these two handsets alongside each other.
First of all you'll see that both devices are running these versions of the operating systems, and then the reviewer goes on to open up some of the default apps starting with the Phone app and then their respective app stores. The testing continues in this way with the web browsers opened and a look at notification areas, multitasking, folders, and more default apps. Finally there's a look at the close down screens.
Sometimes the difference in speeds is almost imperceptible but for the majority of the time one seems to be faster than the other. However, we're not going to ruin your enjoyment of the video by giving that away as you can judge for yourselves when you view it. Once you've done that it would be good to hear your thoughts about the app opening speeds for the iPhone 6 Plus and Galaxy Note 4 on iOS 8.3 beta vs. Android Lollipop respectively, so do send us your comments.