Nexus 5 Android 5.1 update benchmark listing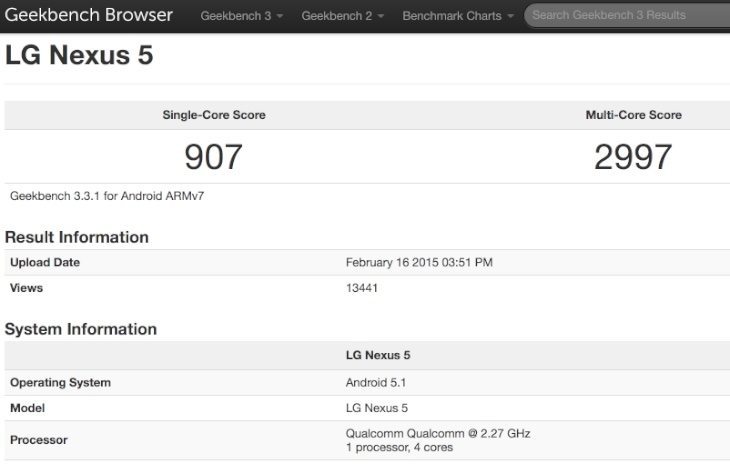 One of the benefits of opting for a Google Nexus smartphone or tablet has always been that these are the first to get new Android updates. Therefore we were recently surprised at news that the Android 5.1 Lollipop update would be available for some of the new Android One budget smartphones. Now there's some promising news following a Nexus 5 Android 5.1 update benchmark listing.
Regular Phones Review readers may recall that two weeks ago we reported on new Android One phones for Indonesia, as these would be skipping Android 5.0 and jumping directly to 5.1. Since then these low-cost phones have also launched for the Philippines and also come running Android 5.1 out of the box. Many people with Nexus devices may therefore be wondering why the Nexus line hasn't yet received Android 5.1, and Google hasn't so far issued any news on this.
Now the LG-made Nexus 5 has shown up at Geekbench and it's running Android 5.1, so it looks as though this update is at least in testing for one of the Nexus line. The screenshot in the image below shows the benchmark listing, and as the Android 5.1 release is now closer for the Nexus 5 it's likely that it will also be pushed out soon to other Nexus devices. However, there's no news on precise release dates just yet.
As usual once the update arrives for the Nexus line it will then start to release to other devices, but this can be a very hit-and-miss affair. The new update may take many weeks or several months to appear for various manufacturers devices and for different carriers and different regions.
Are you keenly waiting for the Android 5.1 update to appear for your Nexus 5 or other Nexus device? Maybe you're a bit frustrated that it appeared first for some of the low-end Android One handsets? Let us know with your comments.
Source: PrimateLabs
Via: GSMArena