The Nokia 215 Dual SIM comes to India for Rs. 2,149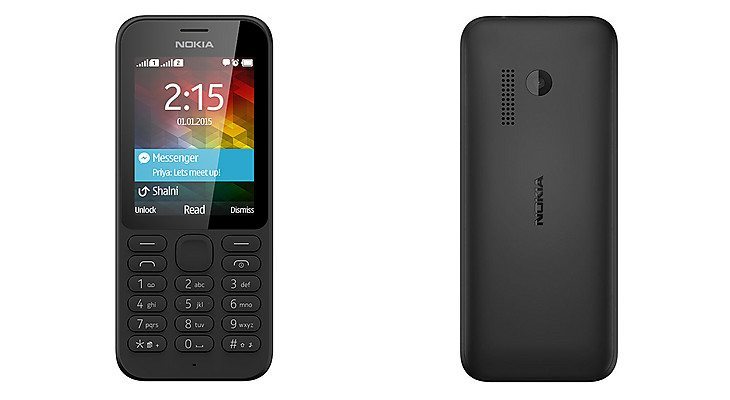 Believe it or not, some folks actually prefer uncomplicated smartphones that can just handle the basics. Not everyone plays high-end mobile games, and how important is a fingerprint scanner or QHD when it comes simply making a phone call? If you don't need all the bells & whistles, you may be interested in the Nokia 215 Dual SIM and its rock bottom price tag of Rs. 2,149.
The feature phone known as the Nokia 215 first showed up on our radar last month with a $29 price tag. Its Dual SIM brother has just landed in India for Rs. 2,149, which equates to around $34 bucks in the states. If you're wondering what kind of phone you'll get for that much money, wonder no more…
Like the regular version, the Nokia 215 Dual SIM sports a 2.4-inch display with a resolution of 320 x 240. It's not a touchscreen device, but it does come preloaded with some apps like Opera mini, Facebook, Messenger and more. The horsepower and storage space weren't given, but the feature phone does let you pop in a 32GB microSD card.
As lowly as the Nokia 215 Dual SIM is, there is still a 0.3MP camera with 2x digital zoom. It can even handle video at 15fps if you have enough space to store the footage. Other features to note include an FM Radio, Mp3 player, Bluetooth 3.0, WiFi, 2G, and a torchlight. The Nokia 215 will get its power from a 1,100mAh battery and runs the Series 30+ OS straight out of the box.
If you're in the market for a solid, cheap backup device the Nokia 215 Dual SIM is well worth a look. It would be a good device for beginners as well or folks that just want a simple phone that's a bit smarter than the ones we had before the iPhone came along. You can pick up the Nokia 215 Dual SIM in Green, White and Black from the link below if it sounds like your cup of tea.
via — Fonearena