Windows 10 vs Android Lollipop vs iOS 8.3 bootup and benchmark tests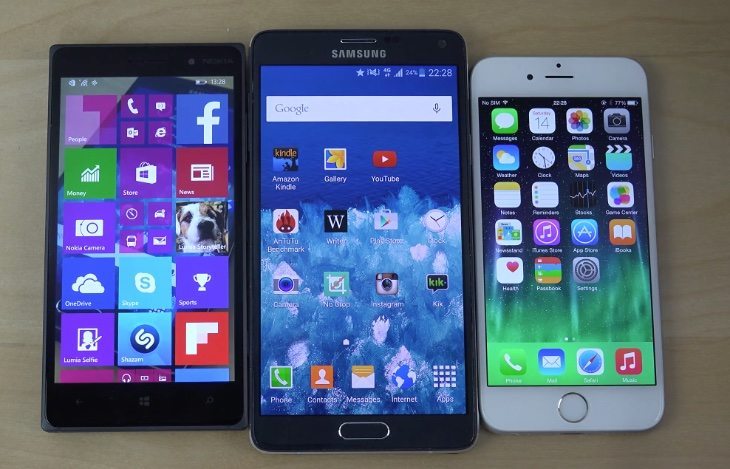 When new versions of operating systems make a public release or will shortly be made generally available, it's always interesting to see how they compare. Today we're sharing some videos of Windows 10 vs. Android Lollipop vs. iOS 8.3 in speed and benchmark testing on the Nokia Lumia 830, Samsung Galaxy Note 4 and iPhone 6.
Android 5.0 Lollipop has already released and is still in the process of rolling out for various devices, one of which is the Samsung Galaxy Note 4. Meanwhile Windows 10 will be offering a unified experience for PC's and mobile devices and is currently in the preview stage, while iOS 8.3 is still in beta being tested by developers.
The first YouTube video that you can see below this story shows a bootup speed test of the Lumia 830 running a Windows 10 preview, a Galaxy Note 4 on Android 5.0.1 Lollipop and an iPhone 6 running the first beta of iOS 8.3. At the beginner the reviewer notes that the Lumia 830 on Windows 10 is pretty glitchy and when viewing the video we should remember that these are not final builds of Windows 10 or of iOS 8.3.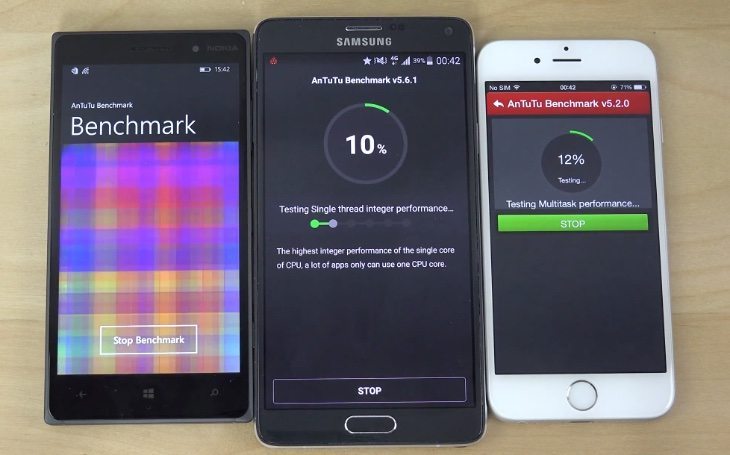 All of the devices are turned off after ensuring that nothing is running in the background. The handsets are then simultaneously turned on to see which one is ready for action first. The Samsung Galaxy Note 4 is the winner followed by the iPhone 6 and then the Lumia 830 on Windows 10 not too far behind, so Lollipop takes the title here.
The second YouTube video below shows an AnTuTu benchmark test being conducted on the same three handsets and with the same operating system versions. You'll see the test being performed in entirety and interestingly the Lumia 830 on Windows 10 is the first to complete the test, way before the Note 4 and iPhone 6. However, the score for the Windows handset is disappointingly low. We won't give the scores and result here this time around, as you might prefer to find out when you view the video for yourself.
After you've taken a look at the speed tests below this article we'd like to hear your thoughts. Are you surprised by any of the results of these bootup speed and AnTuTu tests on the Lumia 830, Galaxy Note 4 and iPhone 6 on Windows 10, Lollipop and iOS 8.3 respectively?