Samsung Z1 battery life results compared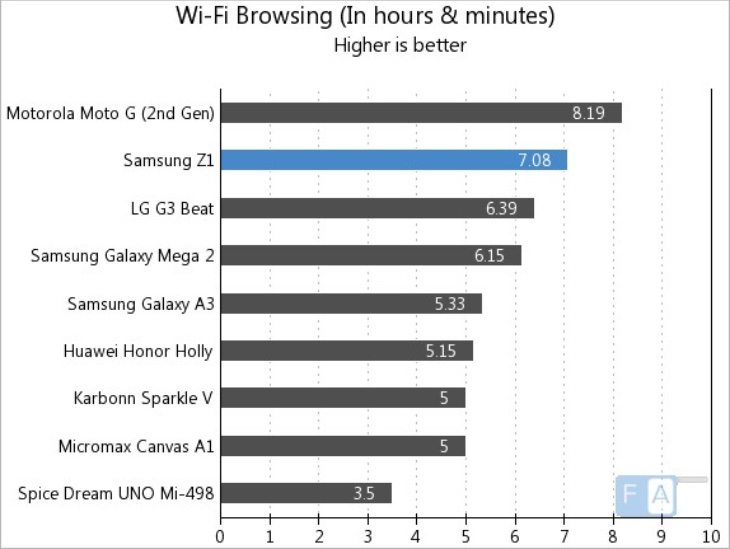 The Samsung Z1 is the company's first smartphone release to be running the new Tizen operating system, and as such it's attracting a fair amount of attention. The budget handset has been especially popular in the India and Bangladesh markets, and may still have many more potential buyers. Today we're looking at Samsung Z1 battery life results compared with other devices.
Battery life is an increasingly important factor when buying a new smartphone and the Z1 has a 1500 mAh battery that juices a 1.2GHz dual-core processor and 4-inch display. Now the phone has been put through its paces as far as battery life is concerned, and with it's low-end specs we would imagine the battery performance should be pretty good, especially as the Tizen OS also features an ultra power saving mode.
The testing has been conducted by Fone Arena and looks at 5 categories, Talk Time, 3G Browsing, WiFi Browsing, Video Playback and then a One Charge Rating. The variety of other phones it was compared with for battery life include the likes of the Samsung Galaxy Mega 2, Moto G 2nd gen, and Samsung Galaxy A3, as well as Android One handsets such as the Micromax Canvas A1.
In the Talk Time testing the Samsung Z1 managed a time of 9 hours and 5 minutes. That put's it mid-table (as shown in the image below), beating all three of the Android One handsets. For 3G Browsing the Z1 did exceptionally well, as it managed first spot above the other handsets used for the comparison, with a time of 5 hours and 15 minutes.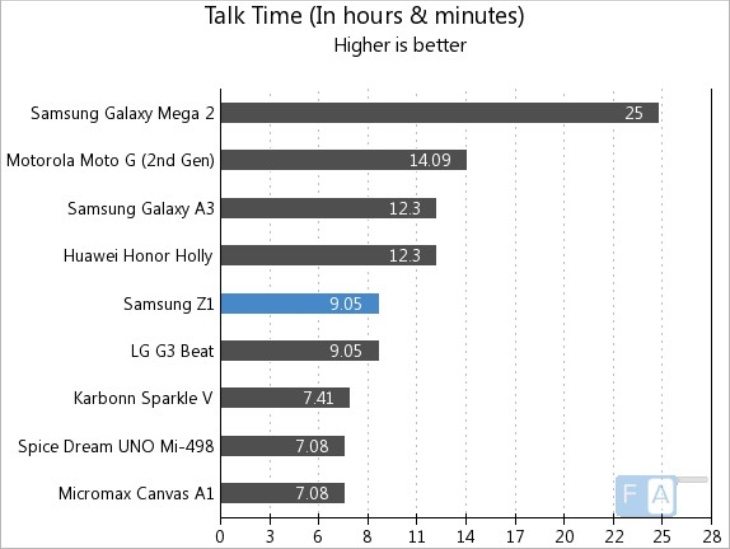 In WiFi Browsing the Z1 also achieved a good ranking. It managed 7 hours and 8 minutes taking second place on the table, and was beaten only by the Moto G. However, for Video Playback the Z1 performed less well, attaining a time of 6 hours 40 minutes. This placed it above the three Android One handsets but below all the others.
Finally, for the Fone Arena One Charge Rating it attained 6 hours and 55 minutes, with the verdict being that the Samsung Z1 battery life is "decent" for a handset in this price range with this size of battery. We've included two of the tables here and you can see the others at the source below. It's worth noting that interest in the Z1 has been so high that recently it was reported that a Samsung Z2 Tizen phone may follow sooner than expected, although there's no firm news on that yet
Have you been considering buying the Samsung Z1, and if so are you happy enough with the results of this battery life testing? Maybe you have already purchased the Z1, in which case you could tell us if you are happy enough with the battery life in your experience with this smartphone? We always appreciate receiving your comments.
Source: Fone Arena