Samsung Norway teases Galaxy S6 features with crazy concepts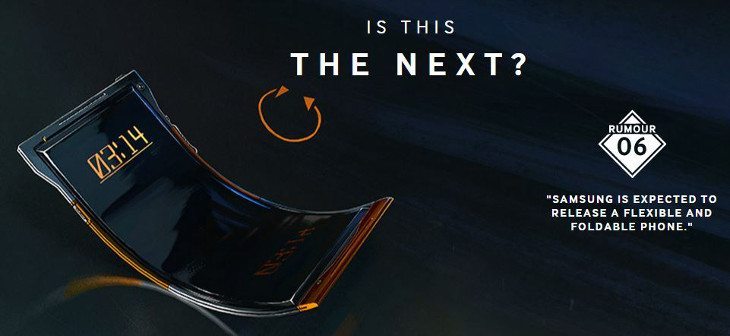 Yesterday was all about the HTC One M9, but Samsung seems to have taken over the rumor mill today. Remember those crazy concepts we showed you from Samsung Norway last week? Well, they are at it again as three new "rumors" have been posted to their website.
When we last checked out Samsung Norway's site, they had posted three teases based on several smartphone rumors involving the Galaxy S6. It was intriguing way to promote the new handset, and their next three rumors are just as interesting as the last ones.
Rumor #4 touches on the Samsung Galaxy S6 display again, and say's "It has been rumored the new Galaxy will feature a larger display." It's set against the backdrop of some blueprints, and while we know the S5 isn't going to be a phablet, the tease hints at a better screen to body ratio and thinner bezels.
The next tease seemingly confirms those glass back rumors with a photo of an all glass smartphone. What may be the last tease for Sammy shows a funky foldable phone. Again, we're not going to see a phone that can bend in half yet, but we will see one with dual-edges called the Samsung Galaxy S6 Edge.
Out of all the marketing campaigns we've seen over the past year from Sammy, the one from Samsung Norway has to be one of our favorites. It's a fun way to get the word out about the new device while having a little fun with all those rumors we've been talking about for the past 6 months.
Are you a fan of Samsung's wild concepts in their new campaign?