iPhone 6 vs Xiaomi Mi Note bootup speed test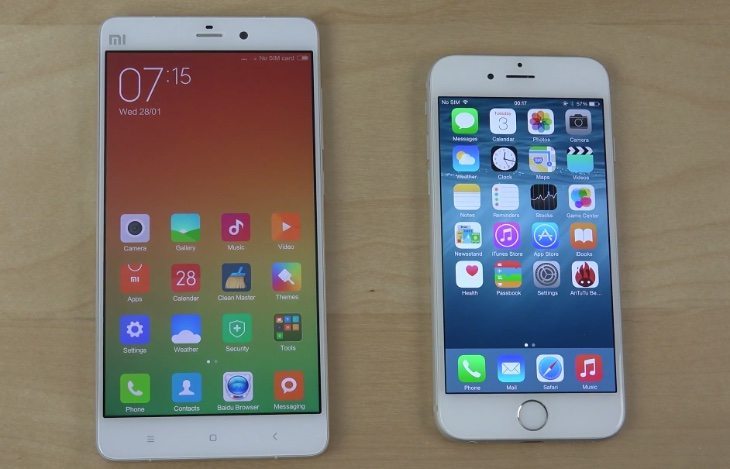 There are a huge amount of new devices being shown for the first time at the moment thanks to MWC 2015. Sometimes though, it's nice to have a little diversion a busy day, and some readers may be interested in the video we are sharing here. It's an iPhone 6 vs. Xiaomi Mi Note bootup speed test, so which do you think will be fastest?
The iPhone 6 released in September with a 1.4GHz Apple A8 dual-core processor and 1GB of RAM. The model shown in the test is running iOS 8.3 beta 2, currently in the hands of developers only. The Xiaomi Mi Note is a more recent release and is powered by a 2.5GHz Snapdragon 801 quad-core processor with 3GB of RAM. It runs the Android 4.4.4 KitKat-based MIUI version 6.
The Mi Note looks very similar in design to the iPhone 6 although it's notably larger, and the video begins with the reviewer running through a few of the specs and also mentioning the Mi Note Pro version. It can be intriguing to see how different devices stand up against each other, and although this test only involves bootup speeds it's worth taking a look at.
We've embedded the video from YouTube beneath this post for you to watch, and you'll see both handsets being simultaneously powered up to compare Android vs. iOS and see which one is ready for action first. In the interim the reviewer discusses the rise of Xiaomi, a company that is seeing incredible success with its recent devices. One of the handsets boots up several seconds ahead of the other but we're not going to spoil the video by telling you here.
Finally the video takes a quick look at the differences in the UI experience of these phones, both of which are described as "fantastic." When you've viewed the video we'd be interested to hear what you have to say about these two phones. Are you thinking of purchasing the iPhone 6 or Xiaomi Mi Note?