Samsung Galaxy A7 vs Galaxy Note 4 bootup speeds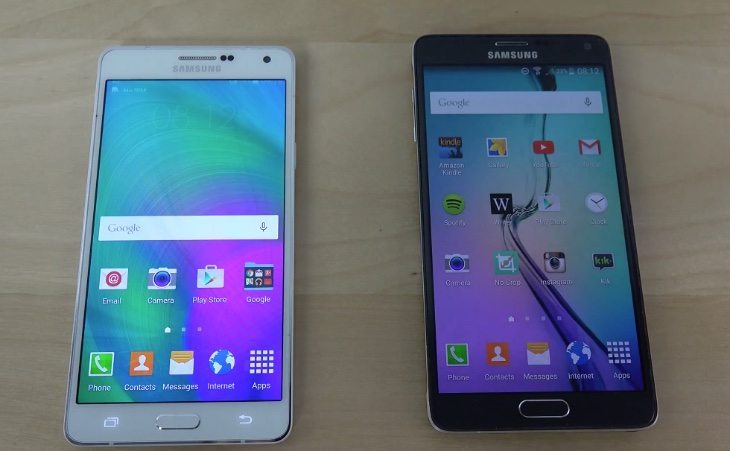 The Samsung Galaxy Note 4 released in October last year and is a high-end phablet with top-notch specs. The Galaxy A7 is a recent addition to the market and has been designed with a metal build for a more premium look. However, it has a cheaper price tag and lesser specs than the Note 4. With that in mind we thought it would be interesting to show a Galaxy A7 vs. Galaxy Note 4 bootup speed test.
Previously we've shared an initial look at the Galaxy Note 4 vs. Galaxy A7 that focused purely on the benefits of each device. As a refresher on specs we can tell you that the Note 4 has a Snapdragon 805 quad-core processor or Exynos 5433 octa-core processor (depending on region), a 5.7-inch display with resolution of 2560 x 1440, and 3GB of RAM.
By comparison the Galaxy A7 has either a Snapdragon 615 octa-core processor or Exynos 5430 octa-core processor, a 5.5-inch display with resolution of 1920 x 1080, and 2GB of RAM. Below our article today we've embedded a short YouTube video that simply shows a speed test to see which handset is ready for action first. The Galaxy A7 is running the Android 4.4.4 KitKat operating system, currently the latest version available for this phone. On the other hand the Galaxy Note 4 is running the later Android 5.0 Lollipop.
When you watch the video you'll see that both smartphones are simultaneously powered up and it ends up being a tight race. We're not going to spoil your enjoyment of the video by telling you the winner as it might spoil the big reveal, but its interesting to see considering the different specs and operating versions. After the bootup speeds are shown the reviewer also shows some of the differences in the user interface.
If you're not already using Lollipop on your device this will give you a chance to see some of the changes and also the similarities. Once you've taken a look at the bootup test below we'd be interested to hear your comments on the Samsung Galaxy A7 and Galaxy Note 4.