Samsung Galaxy A7 vs A5, A3 and Alpha in benchmark speed test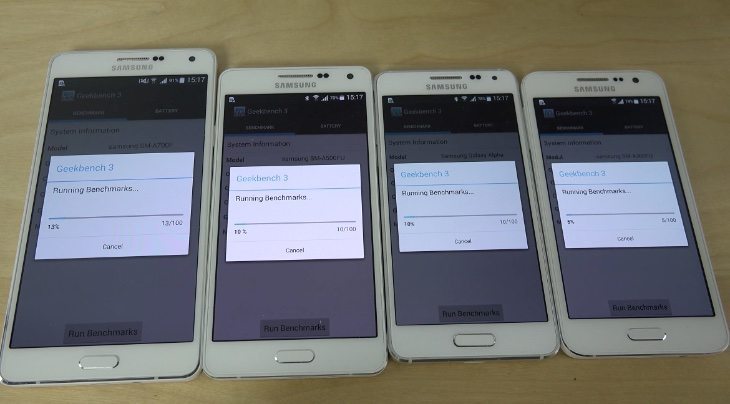 It can sometimes be interesting to test different smartphones against each other for various factors, especially when they are from the same manufacturers but at different specs and price levels. Today we have a short video to share that shows the Samsung Galaxy A7 vs. A5, A3 and Alpha in a benchmark speed test, so it will be good to see how they compare in this respect.
The Samsung Galaxy A3 and A5 both released in December while the larger-screened A7 joined them in February. The Galaxy Alpha preceded all of them, appearing in September last year. The A7 is powered by either an Exynos 5 octa-core processor or Snapdragon 615 processor (depending on market), and has a 5.5-inch display with 2GB of RAM. The Galaxy A5 packs a Snapdragon 410 quad-core processor with a 5-inch display and 2GB of RAM.
Moving on to the lesser-specced Galaxy A3, this one has a Snapdragon 410 quad-core processor, a 4.5-inch display and 1GB of RAM. Finally the Galaxy Alpha is powered by an Exynos 5 octa-core processor, with a 4.7-inch display and 2GB of RAM. Regular Phones Review readers may remember that recently we shared some videos showing all of these 4 phones in an Internet speed test and bootup test. Now the YouTube video that we've embedded beneath this article shows the same handsets in benchmark testing.
The video begins by showing all 4 handsets in descending order of size. So from left to right you'll see the Galaxy A7, A5, Alpha and then the A3. All are running the Android 4.4.4 KitKat OS and then the Geekbench 3 test is conducted on the phones. After the testing has run its course you'll see the resulting single-core and multi-core scores. There's very little in it between the top two phones but then a vast gap to the far lower scores of the poorest performing phones.
Also shown is how these scores compare to those of some other devices including the Galaxy S5, Nexus 5 and more. We're not going to tell you all of the results here as it could ruin the suspense for when you scroll down to watch the video! When you've taken a look we'd like to know what you think of the differences in these benchmark scores between the Samsung Galaxy A7, A5, A3 and Alpha?