Pre-orders begin for the $149 Alcatel OneTouch Watch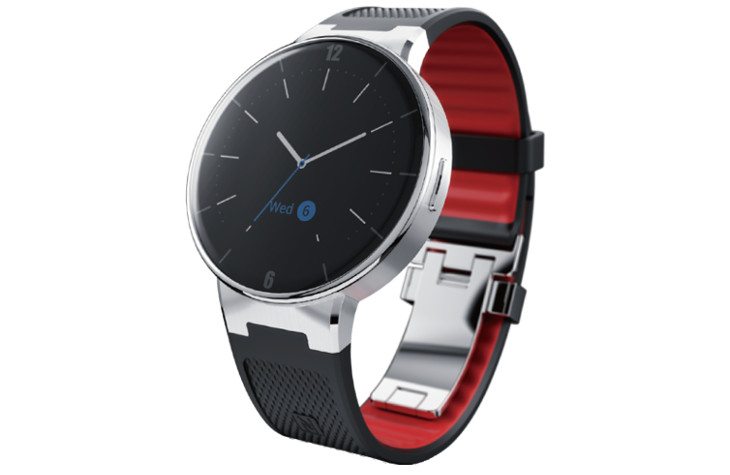 More companies are turning to wearables this year, and consumers are starting to get on the bandwagon thanks to devices like the Moto 360 and the upcoming Apple Watch. Alcatel is a company you probably won't think it when it comes to smartwatches, but they want to change that with the Alcatel OneTouch Watch which has just gone up for pre-order.
Alcatel unveiled the Alcatel OneTouch Watch at CES in Vegas earlier this year, but have been relatively quiet about the device since that time. If you've been wondering what was going on with the OneTouch Watch, wonder now more as the wearable can be put on pre-order starting today for $149.
The Alcatel OneTouch Watch sports a 1.22-inch display, and it's round aside from a smaller version of the 'flat tire' made infamous by the Moto 360. Under the glass, you'll find a heart rate monitor, NFC, an array of sensors, and a USB 2.0 port. That port allows the wearable to charge in around an hour, and as there's no wireless charging, you just need to plug it in.
If you wanted Android Wear, you're out of luck as the OneTouch Watch will run Alcatel's own OS. That said, you can still synch up to your smartphone to receive notifications and pull off the usual smartwatch tricks. There are swappable watch faces as well, but we have to imagine the content is going to be extremely limited compared to Android Wear or the Apple Watch.
The Alcatel OneTouch Watch isn't the flashiest smartwatch around, but it's not going to break the bank at $149 bucks. It will also work with any Android handset running at least Android 4.3 or iPhone's running iOS 7.
Are you interested in picking up the Alcatel OneTouch Watch?