Apple Watch Dock by Mophie is a stylish accessory, pre-order now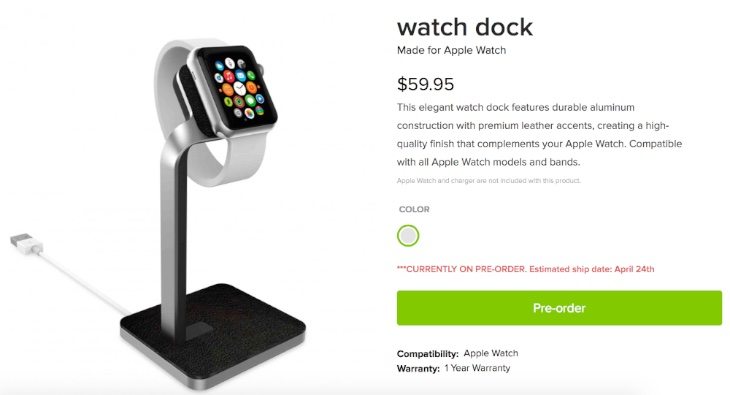 Unless you've been living in a very deep dark hole you will know that pre-orders for the Apple Watch are already available with a release date set for April 24. We have some details of one of the first accessories we've seen for the device and it's also available to pre-order now. The Apple Watch Dock by Mophie is a stylish accessory that many buyers of the wearable device might want to consider.
Mophie is better known for its Juice Pack battery cases that have a great reputation, so it's good to see the company come up with this Apple Watch Dock. The dock is a solid and stable charging stand with an aluminum base for durability. Premium leather accents on the arm of the dock offer protection and a quality look and finish.
The charging cable supplied by Apple when you buy the Watch itself, is concealed in the dock to prevent unsightly cable clutter and annoying tangles. The dock has an elevated and angled charging position so that you can easily use the touchscreen of the Watch while it's charging. Dimensions of the Mophie Watch Dock are 4.64in x 2.87in x 2.52in and it weighs 3.86oz.
If you're worried that it might only support particular models or one of the two Apple Watch sizes then no fear, as the dock is compatible with both sizes and all models and bands of the device. The Mophie Watch Dock is up for pre-order now at this Mophie product page with a $59.95 price tag. It's currently listed for shipping on April 24 to tie in with the release of the Watch itself.
We have to say that we really like the look of this Watch Dock from Mophie and wonder what you think? If you haven't yet pre-ordered the Apple Watch and are having trouble trying to decide which you want, you might want to check out a video shown in our previous article that gives advice to buyers about the different models available.
If you've already ordered your Apple Watch do you think you'll also treat yourself to this Mophie Apple Watch Dock? We always enjoy hearing from readers so do drop us a comment in the box below.
Via: Phone Arena