Meerkat app for Android public beta now available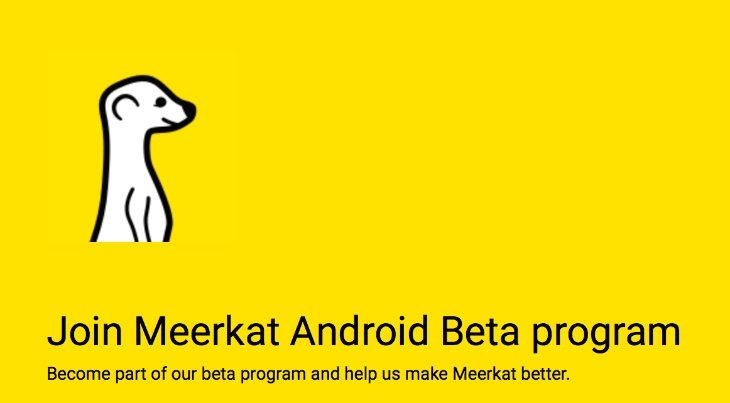 There's some interesting news for Android device enthusiasts who may have been itching to try out the Meerkat live streaming app. The Meerkat app for Android public beta is now available, as confirmed via a tweet. If you want to become an external beta tester you can sign up to be part of the program right now.
The Meerkat live video streaming app has been attracting plenty of interest. However, until now it has only been available for iOS users, the same as for its Twitter rival live streaming app Periscope. Meerkat was the first of these two apps to become available and had already become hugely popular before Twitter made the Periscope app available for iPhone owners in late March.
Meerkat enables Twitter users to share real-time video streams, activated by a notification to other Twitter users who use Meerkat or by a link in a tweet. Those viewing the video can then comment by using Twitter @ replies, and at the end of the streamed video it disappears unless users choose to save it. The live broadcasting services involved will see another big leap in users with the arrival of an Android version of Meerkat.
If you want to take part in the public beta program you simply need to fill in some details on a Google form, including name, email address and Twitter user name. It's not clear whether the number of those taking part in the beta will be limited or not, or when the official Meerkat Android app will finally launch.
Will you be signing up to become a public beta tester for Meerkat for Android? Are you happy to be able to take a look at the Meerkat app for yourself? Do let us know by sending us your comments.
Via: NDTV Gadgets